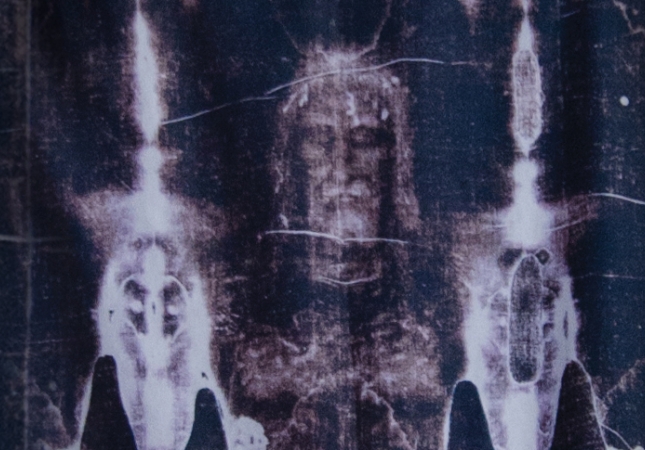 Center for Ministry
Saginaw exhibit is at the diocesan Center for Ministry, 5802 Weiss St., Saginaw. See below for Ithaca exhibit details. 
We are honored to host the Shroud of Turin Replica Exhibit, which is on loan from the Marytown Franciscan community in Illinois. The Shroud has long been venerated by the faithful and is believed by many to be the burial cloth of Jesus.
After 36 years of exhaustive and medical, historical and scientific research, the Center for the Study of the Passion of the Christ and the Holy Shroud has developed a moving and informative exhibit. The centerpiece is a full length photographic image of the Shroud made by the Eastman Kodak Co. In addition, the mobile exhibit contains a large crucified corpus showing the wounds of Christ corresponding to the passion narrative in the Gospel accounts and the wounds shown on the Shroud. The exhibit contains 92 panels detailing the history and science of the Shroud.
There is no cost to view the exhibit, however, donations are welcome. 

The exhibit will be open to the public in Saginaw during these times:

Saturday, Feb. 17: 10:30 a.m. to 3:30 p.m.
Sunday, Feb. 18: Noon to 5 p.m.
Monday, Feb. 19: 8 a.m. to 8 p.m.
Tuesday, Feb. 20: 8 a.m. to 4 p.m.
Wednesday, Feb. 21: 8 a.m. to 8 p.m.
Thursday, Feb. 22: 8 a.m. to 4 p.m.
Friday, Feb. 23: 8 a.m. to 8 p.m.
Saturday, Feb. 24: 10 a.m. to 3:30 p.m.
Sunday, Feb. 25: Noon to 5 p.m.
We are currently looking for a few volunteers for this event. If you would like to volunteer, you may sign up here. After following this link, please scroll down the page to view open time slots for volunteers. Open time slots are labeled "Sign Up". Simply click on "Sign Up" to volunteer. Once you arrive, someone will help explain volunteer duties.

Ithaca


The exhibit will be open to the public at St. Paul the Apostle Church, 121 N. Union St., Ithaca from Tuesday, Feb. 27 to Saturday, March 3 from 10 a.m. to 1 p.m. and from 4 p.m. to 9 p.m. Also open on Sunday, March 4 from 10 a.m. to 7 p.m.