SAGINAW — On Thursday, Jan. 17, several hundred Catholic pilgrims from the Diocese of Saginaw will travel by bus to Washington, D.C. for the world's largest pro-life event. The pilgrims represent Catholic schools and parishes throughout the diocese.
"Please join me in praying for the young people and adults who will participate in the March for Life, " said the Most Rev. Walter A. Hurley, Apostolic Administrator for the Diocese of Saginaw. "I want to express my support and sincere appreciation for their faith and courage."  Read More
Watch March for Life coverage
Watch March for Life coverage from EWTN:
On the EWTN website, via Facebook Live (http://facebook.com/ewtnonline  ), or on the free EWTN mobile app available in the Google Play Store or on Apple iTunes.
Stay connected on social media
Stay connected with our March for Life pilgrims on Facebook (search "Diocese of Saginaw").  
Nine Days for Life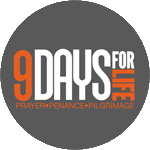 Four Ways to Participate!
Your prayers matter; Your sacrifices make a difference
Since the Supreme Court's Roe v. Wade decision 46 years ago, more than 58 million children's lives have been lost to abortion, and the lives of millions of their parents have been shattered. In prayerful recognition of these lost and broken lives, the U.S. Bishops invited Catholics and others nationwide to participate in Nine days of prayer, penance and pilgrimage Jan. 14-22. Click the link for details or to receive the daily novena in English and Spanish each day by email, text message, or through their app.
March for Life Photos
March for Life Documents