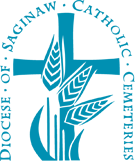 For Old Calvary Saginaw Records:
St. Andrew Cemetery
381 St. Andrews Rd.
Saginaw MI 48638
989.792.3131
Cindy Barber, Manager
 
---
Story as reported in the Saginaw Courier Herald, December 15th, 1909...
The Calvary Association purchased the sixty acre tract of Goseline Farm land for the new Catholic Burying Ground. The farm was bought for $10,000 cash by the cemetery board from Mrs. Spencer Goseline, widow of the later Michigan Central Railroad agent, president of the police board, and member of the board of estimates.
The land was described as being located just outside the city limits on the east side of Washington Avenue, only a short distance from the end of the street car line. The farm house was included in the purchase price, to be used for the sexton's quarters. The big barn, silo, and attachments were to be removed by Harry Goseline, who since his father's death had been running a dairy farm.