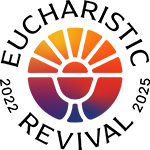 Renew your encounter with the Risen Lord!
The Coronavirus Pandemic (and subsequent fall-out) has created for many a heartbreaking separation from the Body and Blood of Christ – the one who truly can heal us in mind, body and spirit!

On this year's Solemnity of the Most Holy Body and Blood of Christ, we are reminded that Christ wants nothing more than to be united with us and invites us into the mystery that his passion, death, and resurrection have revealed to us: that God gave His only Beloved Son for our salvation, so that we might have the promise of eternal life. Therefore, please come … and renew your encounter with the Risen Lord!
Welcome back
If you have been away from Mass for a while, welcome back – the Lord Jesus has been waiting patiently for you and his Church is more complete when you are gathered at your parish as the living Body of Christ. If you have been worshipping with us since our parishes have re-opened, we have been blessed by your presence.

Whether you have been receiving Christ sacramentally in the Eucharist or offering a Spiritual Communion from home, the Lord Jesus has been with you and the witness to this encounter that is expressed by your lives has made a difference in this world. Over the course of the next couple of years, we encourage you to encounter the Risen Christ in all the ways he is present to us in the Eucharistic Liturgy ("Mass"): the sacrament of the Body and Blood of Christ, the assembly of God's holy people; the sacred Word of God proclaimed; and the bishop or priest-celebrant. Keep an eye out for the many ways during our diocesan-wide Eucharistic Revival that you can deepen your relationship with the Risen Christ, be encouraged to grow in faith with other faithful Catholics, bear witness to the Risen Lord, and be strengthened to serve Him where you find yourself.

Stay up to date with the Eucharistic Revival events and celebrations throughout the Diocese of Saginaw by following our website posting on this page at: www.saginaw.org/eucharistic-revival.
Revival's in the Air
AN EXCITING JOURNEY AHEAD
Our world is hurting. We all need healing, yet many of us are separated from the very source of our strength. Jesus Christ invites us to return to the source and summit of our faith: his Real Presence in the Eucharist. The National Eucharistic Revival is a movement to restore understanding and devotion to this great mystery here in the United States.
Watch the video to learn more about the exciting journey ahead and how you can be a part of it!
LEARN MORE ABOUT THE NATIONAL EUCHARIST REVIVAL
Bishop Gruss' presentation on the Eucharist as the foundation for all ministry
Bishop Gruss recently taught on the Eucharist during an enrichment day at the Diocesan Center for Ministry June 4, 2022.