Are you familiar with Divine Mercy Sunday?
This great feast is celebrated around the world the Sunday after Easter. It was established by St. Pope John Paul II in 2000, when he canonized a Polish nun named Sister Maria Faustina, making her St. Faustina Kowalska.  
The feast of Divine Mercy is associated with the messages Jesus gave to St. Faustina in the 1930s of his unfathomable mercy for us all. These private revelations were recorded in her Diary.
Some of our parishes are celebrating Divine Mercy Sunday (April 11) with Holy Hours and special events.  All are welcome.
Pray the Divine Mercy Chaplet with Bishop Gruss

.

The History of the Divine Mercy Chaplet
Message of Love and Mercy
Jesus wanted the message of His great love and mercy shared around the world. He wants us to know the depths of His desire to encounter and help us in our brokenness, weakness and sin. He promised great graces to all those who celebrate the feast of Divine Mercy Sunday. 
 
The Image and Prayers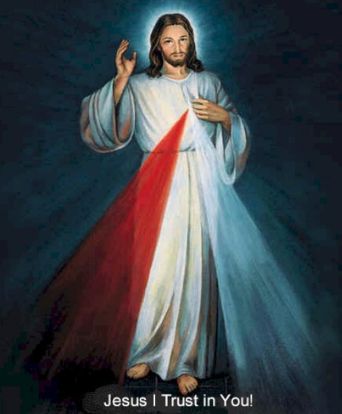 The image of Jesus associated with divine mercy is the one in which two rays of light issue from His Heart: a red ray and a pale ray. These represent the blood and water that gushed forth from His pierced side on the Cross. This is how Jesus appeared to St. Faustina. He asked an image be painted just as He looked when He appeared to her. At the bottom of the image, Jesus wanted a prayer to be written, "Jesus, I trust in You." 
The Chaplet of Divine Mercy is a prayer that is prayed on ordinary rosary beads. On the "Our Father" beads of the rosary, we pray, "Eternal Father, I offer You the Body and Blood, Soul and Divinity of Your dearly beloved Son, our Lord Jesus Christ in atonement for our sins and those of the whole world." On each "Hail Mary" bead, we pray, "For the sake of His sorrowful Passion, have mercy on us and on the whole world." This prayer is most powerful for the dying. Our Heavenly Father said to St. Faustina:
When this chaplet is said by the bedside of a dying person ... unfathomable mercy envelops the soul, and the very depths of My tender mercy are moved for the sake of the sorrowful Passion of My Son." (811)
Each day, between 3 p.m. and 4 p.m. is known as the Hour of Great Mercy. We remember Christ's death on the Cross at 3 p.m.
 

For more information on Divine Mercy, click here