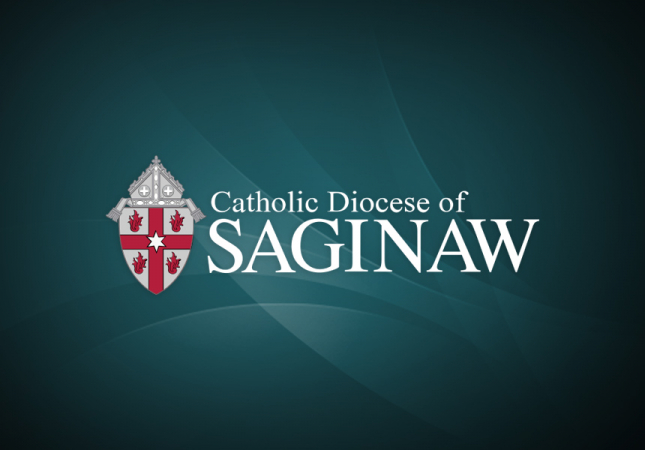 The Most Rev. Joseph R. Cistone, Bishop of Saginaw, released the following statement today:
"In a letter issued Monday to the People of God, the Holy Father, Pope Francis responded to the revelations of last week's Pennsylvania grand jury report by condemning abuse and promising repentance.
"In his letter, he wrote:"
The heart-wrenching pain of these victims, which cries out to heaven, was long ignored, kept quiet or silenced. But their outcry was more powerful than all the measures meant to silence it, or sought even to resolve it by decisions that increased its gravity by falling into complicity. The Lord heard that cry and once again showed us on which side he stands.
"I encourage you to read the Holy Father's letter in its entirety, and have included a link to his letter below.
"My thoughts, prayers and sorrow go out to all victims of clergy sex abuse, especially those whose tragic accounts of abuse are detailed in the grand jury report released in Pennsylvania. The numbers in the report are staggering, and the horrific details of alleged child abuse over 70 years is numbing. People of faith and good will are understandably experiencing deep emotions of anger, betrayal and a sincere desire for justice.
"On behalf of the Diocese of Saginaw, I remain fully committed to the safety of children. This past April, I appointed Judge Michael J. Talbot (Ret.) to act independently with full responsibility within the Diocese of Saginaw with regard to matters involving the alleged sexual abuse of minors and sexual misconduct by clergy and diocesan representatives.
"At the time, I stated that it was my sincere hope that this step would bring renewed courage to victims - and their families - to come forward with a fuller expectation of fairness, justice, and healing. We know that the trauma runs deep and long not only for the victims but for their family and loved ones as well.
"I continue to encourage anyone who has been abused to come forward and report their complaint to civil authorities.
"The Diocese of Saginaw places no deadlines or time limits on reporting the sexual abuse of minors by clergy. To bring forward a complaint to the diocese and/or to speak to the Victim Assistance Coordinator contact Sister Janet Fulgenzi, OP, PhD, at 989.797.6682 or jfulgenzi@dioceseofsaginaw.org. Any person who contacts the Victim Assistance Coordinator, to make a complaint of sexual abuse of minors by clergy or other diocesan representatives, will be told about the diocesan reporting obligation and, if they have not done so, will be encouraged to directly report the allegation to civil authorities. As soon as the Diocese of Saginaw receives such a complaint it will be reported to the county prosecutor where the abuse is alleged to have occurred.
"I also reaffirm my commitment to cooperate with law enforcement authorities in any investigation of clergy or diocesan representatives. In a statement issued last week by Archbishop Allen Vigneron, Archbishop of Detroit, he quoted the 23 April 2002 address of St. John Paul II to the cardinals of the United States during the height of the abuse crisis. I agree with Archbishop Vigneron that, as much as then, these words ring true today:"
It must be absolutely clear to the Catholic faithful, and to the wider community, that Bishops and superiors are concerned, above all else, with the spiritual good of souls. People need to know that there is no place in the priesthood and religious life for those who would harm the young.
"In April, the Diocese of Saginaw published for the first time, the names of four former priests and one former deacon who were permanently removed from ministry due to credible allegations of sexual abuse of minors. Moving forward, in the case of substantiated reports, the diocese will continue to publicize names of those accused.
"As part of our ongoing commitment to the safety of children, safe environment training programs are required for clergy, employees, volunteers and children. All employees are required to have a criminal history background check, as are all volunteers who have regular contact with minors. The diocese also maintains Standards of Ministerial Behavior for Those Working with Children and Young People, which states appropriate boundaries and ethical guidelines.
"The safety and protection of children remains our highest priority, and we will not rest in our efforts to identify additional measures that can be taken to further safeguard our churches and schools."
Click here to read the Letter of his Holiness Pope Francis to the People of God.