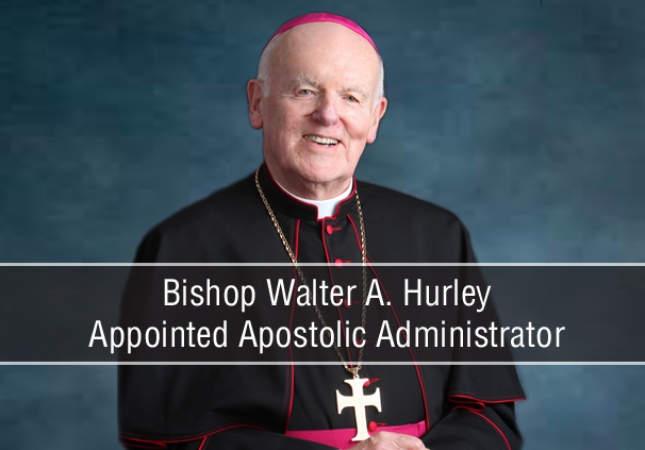 Pope Francis has appointed the Most Rev. Walter A. Hurley, Bishop Emeritus of Grand Rapids, as Apostolic Administrator for the Diocese of Saginaw, effective immediately. In this capacity, he serves as the caretaker for the diocese in this time of transition, addressing the spiritual needs of the diocese and keeping things working in an orderly way until the new bishop is appointed. Rev. William Rutkowski, who has served as Vicar General for the Diocese of Saginaw since 2013, welcomed Bishop Hurley in a meeting with Diocesan staff today.
"My first concern is to assist with the funeral of Bishop Cistone and to assist with the sense of loss that priests and people feel at the passing of this wonderful man," said Bishop Hurley.
Bishop Hurley was ordained a priest of the Archdiocese of Detroit in 1965 and was ordained the 22nd auxiliary bishop of the Archdiocese of Detroit in 2003. He continued to serve in the Archdiocese until 2005, when he was installed as the 11th Bishop of the Diocese of Grand Rapids. He served as Bishop in Grand Rapids for nearly eight years, until his retirement in 2013.
Bishop Hurley is well known for his work with Catholic Charities West Michigan, for establishing FAITH Grand Rapids magazine, orchestrating the development and construction of Cathedral Square in Grand Rapids, and much more.
"I am happy to serve," said Bishop Hurley. "I want to walk alongside the people of the Diocese of Saginaw as we await Pope Francis' appointment of a new bishop."