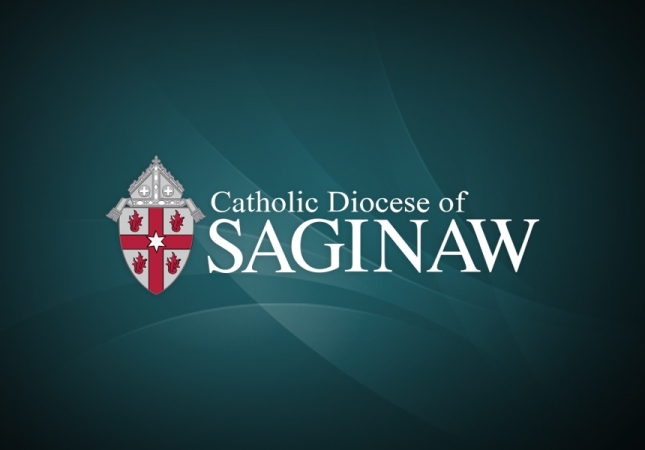 EMAIL UPDATES ARE AVAILABLE HERE
SAGINAW — In response to the needs and concerns of the community after criminal charges were issued against Father Robert (Bob) DeLand, a listening session was held at St. Agnes Parish Tuesday evening (Feb. 27) for members of the church and the greater Freeland community. Those gathered participated in a scheduled Stations of the Cross prayer event, and the listening session followed. It allowed those present to share and express deep feelings following the arrest of Father DeLand and the circumstances surrounding his arrest. 
Youth were in the parish hall to share their own feelings and concerns. Their listening session was facilitated by the St. Agnes Faith Formation Director, Nicole Bakos, with support from the diocesan Director of Christian Service, Terri Grierson, and the Coordinator of Youth Ministry for the diocese, Mark Graveline, as well as a licensed counselor from Child & Family Services of Saginaw, Windi Sterling, LLMSW.
The listening session for adults was held in the church and facilitated by the coordinator of the Office of Child and Youth Protection for the Diocese of Saginaw, Sister Janet Fulgenzi, OP, PhD.
Sister Fulgenzi, OP, PhD, victim assistance/safe environment coordinator and a licensed clinical psychologist, will be at all scheduled Masses at St. Agnes Parish this weekend to listen and speak with anyone. Sister Fulgenzi also may be reached at jfulgenzi@dioceseofsaginaw.org and 989.797.6682.
The protection of children and youth is a priority in the Diocese of Saginaw. The Office of Child and Youth Protection is guided by a policy which includes areas that assist the diocese in efforts to provide preventive measures designed to keep all of our children and youth safe from harm now and in the future.
The policy also contains a comprehensive set of procedures for addressing allegations of sexual abuse of minors by Catholic clergy. Additionally, there are guidelines for reconciliation, healing, and accountability. The Diocese of Saginaw's Policy for the Protection of Children and Young People can be viewed online at https://saginaw.org/child-and-youth-protection/office-child-and-youth-protection.
Father Deland, who was pastor at St. Agnes Parish in Freeland, as well as a judicial vicar for the Diocese of Saginaw, has been placed on administrative leave during the investigation in accord with diocesan policy.