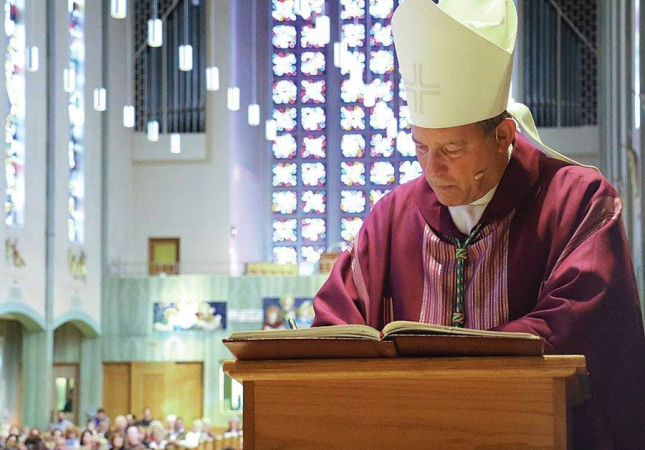 SAGINAW- On Friday, July 26, Bishop Robert Gruss will be installed as the seventh Bishop of Saginaw. Once installed, he will begin his ministry in the Diocese.

"The Lord has really called me into a mission in Saginaw. There's an excitement about this new adventure, this new mission, and I'm looking forward to it."

Bishop Gruss comes to Michigan from western South Dakota's Rapid City Diocese where he developed and implemented a diocesan pastoral priority plan. He opened an institute for catechists, and other lay people who want to learn more about the Faith, among many initiatives. He also worked on the Cause for Canonization of Nicholas Black Elk, an Oglala Lakota holy man who brought more than 400 Native Americans to Catholicism. During his time in the Rapid City Diocese, Bishop Gruss encouraged perpetual adoration and established a diocesan Year of the Eucharist. He was in the process of building a new Pastoral Center in downtown Rapid City.
Photo Caption: "Doctor of Canon Law Don Luis Fernando Escalante from the Vatican, right, points where Bishop Robert Gruss needs to sign on official Vatican documents to move the canonization of Nicholas Black Elk to the next phase..."- Credit: Rapid City Journal, Adam Fondren 
Bishop Robert Gruss was born June 25, 1955. He worked as a corporate pilot before entering seminary, and was ordained to the priesthood on July 2, 1994. In 2007, Pope Benedict named him a Chaplain of his Holiness, giving him the title of monsignor. He was appointed by Pope Benedict as Bishop of Rapid City, and consecrated as a bishop on July 28, 2011. On May 24, Pope Francis announced that he selected Bishop Gruss as the seventh bishop of the Diocese of Saginaw. The Eucharistic Liturgy of Installation is Friday, July 26 at Holy Spirit Church in Saginaw. 

About the Installation Mass

EWTN will provide a live, national broadcast of the celebration of the Eucharistic Liturgy of Installation on Friday, July 26 at 2 p.m. EST from Holy Spirit Church in Saginaw. 

A live stream including local audio commentary will be available at saginaw.org and the Diocese's Facebook page. 

Additionally, Ave Maria Radio will stream live audio of the Installation Mass on local Catholic radio 1440 AM. 

Due to limited seating, this is a ticketed event. 

Additional liturgies with Bishop Gruss

All are welcome at the liturgies listed below which will take place at the Cathedral of Mary of the Assumption, 615 Hoyt Ave., Saginaw. These also will stream live online.

Thursday, July 25 at 7 p.m.- Solemn Evening Prayer with Bishop Gruss

Sunday, July 28 at 10 a.m.- Mass with Bishop Gruss

More information about Bishop Robert Gruss and the Installation Mass may be found here. 

The Catholic Diocese of Saginaw was established by Pope Pius XI on Feb. 26, 1938. Today, it includes 6,955 square miles across Arenac, Bay, Clare, Gladwin, Gratiot, Huron, Isabella, Midland, Sanilac, Saginaw and Tuscola counties. In 1938, The Most Rev. William Murphy, the first Bishop of Saginaw, dedicated the entire diocese under the patroness of Mary of the Assumption.