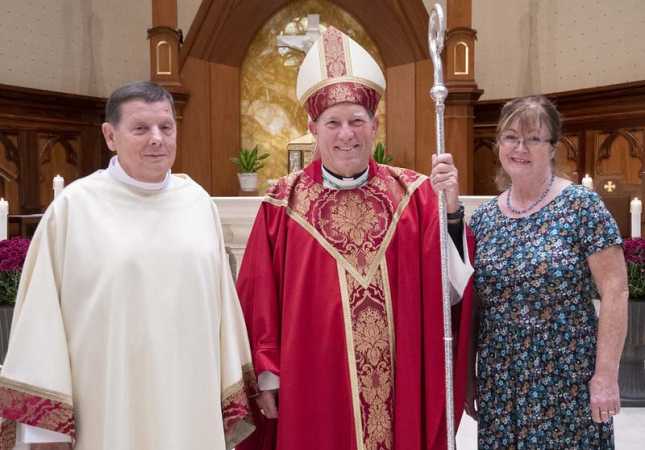 Photo caption: Bishop Robert Gruss with Deacon Stanley Kuczynski and his wife, Małgorzata (Margaret), at the 2021 Permanent Deacon Jubilee Mass at the Cathedral of Mary of the Assumption in Saginaw.
SAGINAW — The Most Rev. Robert D. Gruss, Bishop of Saginaw, has appointed Deacon Stanley Kuczynski to serve as Director of the Permanent Diaconate for the Diocese of Saginaw. The appointment is for three years beginning July 1, 2022.
Deacon Kuczynski brings years of parish experience and a unique background to his new role. A native of Poland, Deacon Kuczynski spent some time in seminary formation in his homeland and received a Master's degree in theology with a specialization in musicology from the Cardinal Stefan Wyszynski University in Warsaw.
After being ordained a permanent deacon by Bishop Joseph R. Cistone on June 5, 2011, he served at St. Stanislaus Parish and then Our Lady of Czestochowa Parish in Bay City, visiting the sick and homebound, coordinating music ministry, leading RCIA (now called OCIA), and carrying out other ministries at the parish. Along the way, he has received invaluable support in his ministry from his wife, Małgorzata (Margaret), as well as his three sons.
"I am very pleased to have Deacon Stanley in this new role," said Bishop Gruss. "With his gifts and experience as a deacon, he will be a great asset to the diocese and the deacon community."
Deacon Kuczynski added: "In this role, I hope to live even more deeply the diaconal charism by serving my brother deacons and their families – as well as supporting the Permanent Deacon Formation Program in our diocese."
As Director of the Permanent Diaconate, Deacon Kuczynski will work closely with Dr. Dan Osborn, Coordinator of Permanent Diaconate Formation and Ministry. "I look forward to Deacon Stanley serving as director. We have collaborated in the past and I have always found him to be a kind and dedicated deacon who finds joy in serving," Dr. Osborn noted.
Also effective July 1, 2022, Deacon Michael Arnold will be stepping down from his role as Delegate for Deacons. With the support of his wife, Donna, and his family, Deacon Mike has served generously in this capacity for over ten years. He continues to serve as a senior deacon at Prince of Peace Parish in Linwood.
"Our diocese has been richly blessed by Deacon Mike's service as Delegate for Deacons. I am very grateful to him for his dedication over these many years," Bishop Gruss said.
Note: Men who believe that God may be calling them to serve as a permanent deacon are encouraged to e-mail diaconate@dioceseofsaginaw.org or call Dr. Dan Osborn at 989-797-6662.