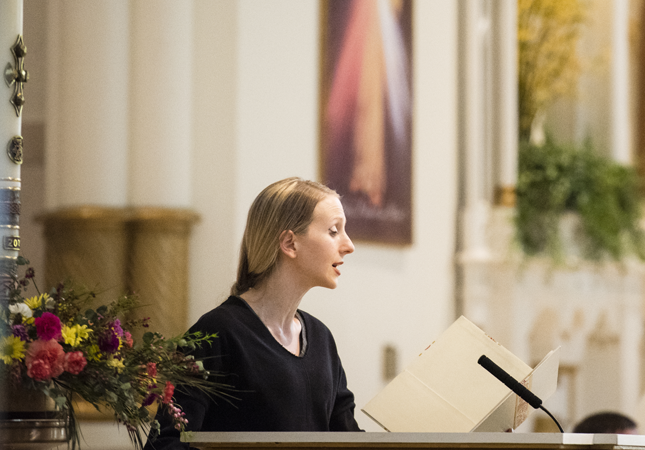 On Easter Sunday, we celebrate Jesus' resurrection from the dead. On Divine Mercy Sunday, which concludes the Octave of Easter, we are reminded that Jesus forgives us. Between these two days, Christians are invited to consider the great love and mercy of the God who sent us His only beloved Son.
Pope St. John Paul II named the second Sunday of Easter "Divine Mercy Sunday" when he canonized Sister Maria Faustina Kowalska, a Polish nun, on April 30, 2000. St. Faustina had received a series of private revelations in which Jesus charged her with the mission to make God's mercy known throughout the world.
To celebrate Divine Mercy Sunday, Catholic parishes around the world hosted special Masses and prayers, including Our Lady of Czestochowa Parish in Bay City (click here for photos). The faithful joined Father Joseph Christensen, FMI, an Essexville native now doing Christ's work in North Dakota, for Mass, eucharistic exposition and benediction, and the recitation of the Divine Mercy Chaplet. Drawing the faithful closer to God's mercy, four priests celebrated the sacrament of reconciliation for two hours prior to and during the beginning of Mass.
"It's like another baptism:  all sins are forgiven," said Father Christensen. The Church offers a plenary indulgence for those who seek it. 
"We see the mercy of God in our everyday lives, because God is so good to us," he said. 
In his homily, Father Christensen spoke of the many challenges facing our culture and the need for prayer and reliance on God.
"We're called to live a life of greatness, of holiness, of God. We're called to greatness," he said. "From all eternity God has greatness prepared for us."
Father Christensen also encouraged those gathered to "be mercy" to each other. By doing this, he said, we can be instruments of grace. 
To learn more about Divine Mercy, click here: