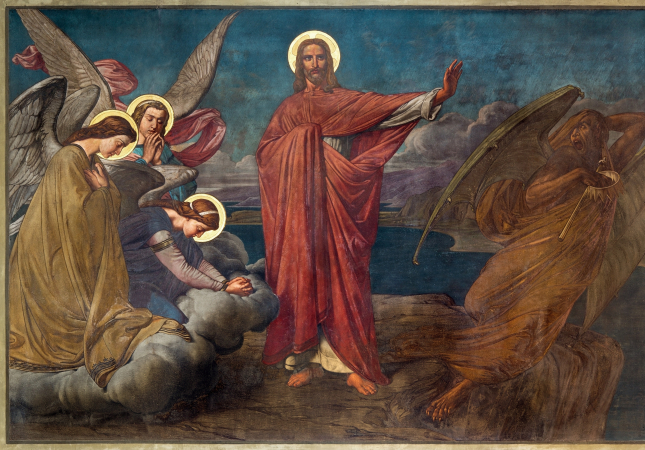 Photo: Antwerp - Fresco of Temptation of Jesus in Joriskerk or St. George Church
"When is the last time you heard a homily on the power and influence of the Evil One?," Bishop Gruss asked those gathered at the Cathedral on Friday, April 1. 
The group, which included fifth grade students from Nouvel Catholic Central Elementary School, was there for the monthly First Friday gathering with Bishop Gruss. The day began with Mass at the Cathedral of Mary of the Assumption in Saginaw and was followed by lunch and an informal talk. 
"It's almost like people believe the Evil One doesn't exist," said Bishop Gruss, acknowledging that the Devil prefers it that way. That way, he can tempt and seduce us toward sin without our ever thinking about it. "Some don't believe he exists at all or has little influence on their lives. Many Catholics and Christians believe they're automatically going to heaven." 
The Evil One is real
The Evil One is real, Bishop Gruss went on to say. He was real in Jesus' day and he is real today.  
"Nothing is more important to God than your soul … which is exactly why the Devil tries to compete for it," Bishop Gruss said. 
Protecting yourself and your family begins with knowing that there is an enemy and understanding his tactics.  
"Friends, we are constantly in a spiritual battle with the Evil One … no one is exempt from this menace. He sugarcoats everything and makes it look like candy so you take it."
Our culture, the Bishop said, is in trouble.
"The way of living promoted by mass media … over time it begins to distort our thinking. We're influenced by all of it: what we watch, what we read, by our neighbors and friends and co-workers … we are influenced far more than we are readily willing to admit.  
"The life of a Christian is a hard way. If discipleship is easy, it's a kind of discipleship we created for ourselves. The Gospel way of life is hard. As Jesus told us: 'If anyone wishes to come after me, he must deny himself and take up his cross daily and follow me.'" Luke 9:23 
Free will
Our free will allows us to make choices each day for the Kingdom of Light or the Kingdom of Darkness.  
"He goes after us on a psychological level," Bishop Gruss said. "If he weakens our faith, he stifles our spiritual growth." 
Satan's goal is to get us to turn away from God by making us distrustful of God, doubting God's goodness and leading us to believe that God's plan for our lives isn't as good as our own. The Evil One has no power over us unless we give it to him. 
"But, he only needs a crack and we give him that crack frequently. The more we live in the light of Christ, the more subtle he has to be." 
Sin flows from our disordered passions and desires. Neglecting God daily in our prayer, attachment to material things instead of Godly things, pride, immodesty, lust, infidelity, passion for food or drink or power or glory, a spirit of fear (worry and anxiety), a heart unable to forgive, talking negatively about another, envy and on and on … all these things open a door.  
The Good News
The Good News is that Christ's victory over Satan has happened! So how can we defend ourselves from the influence of Satan and his minions? The Mass and receiving the Eucharist are great defenses. Bishop Gruss shared something else the Devil despises.  
"Satan hates the penitent," Bishop Gruss said. "His greatest day is if none of you ever went to confession. Why does he hate the penitent? He knows if sins are confessed … he has lost his grip." 
Bishop Gruss also encouraged us to heed these words from St. Paul in his Letter to the Ephesians (6: 10-20): 
Finally, draw your strength from the Lord and from his mighty power. 
Put on the armor of God so that you may be able to stand firm against the tactics of the devil. 
For our struggle is not with flesh and blood but with the principalities, with the powers, with the world rulers of this present darkness, with the evil spirits in the heavens. 
Therefore, put on the armor of God, that you may be able to resist on the evil day and, having done everything, to hold your ground. 
So stand fast with your loins girded in truth, clothed with righteousness as a breastplate, 
and your feet shod in readiness for the gospel of peace. 
In all circumstances, hold faith as a shield, to quench all [the] flaming arrows of the evil one. 
And take the helmet of salvation and the sword of the Spirit, which is the word of God. 
With all prayer and supplication, pray at every opportunity in the Spirit. To that end, be watchful with all perseverance and supplication for all the holy ones 
Bishop Gruss concluded the First Friday gathering with prayer. 
Full video of Bishop Gruss' talk at the Cathedral on Friday, April 1, 2022
The Evil One and spiritual warfare, Bishop Gruss' First Friday talk on how to protect yourself and your family
Subscribe to our emails & join 8,008 people who get stories & more from the Catholic Diocese of Saginaw (Michigan)
Chrism Mass, Tuesday, April 12 (View the livestream beginning at 10:30 a.m.)
Holy Thursday Mass, April 14, Mass at 7 p.m.
Celebration of the Lord's Passion on Good Friday, April 15, at 3 p.m.
Easter Vigil Mass, April 16, at 9 p.m.
Easter Sunday Mass, April 17 at 8 a.m. (will broadcast live on WNEM TV-5)