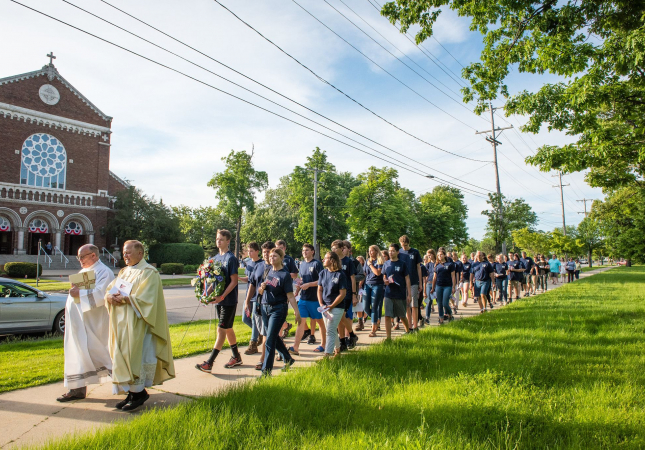 To give thanks for the men and women who have fought to protect our freedom and the right of the Church to carry out her mission of service and mercy, Father Bill Rutkowski, Vicar General, celebrated the annual Mass for Freedom at Holy Family Church in Saginaw on June 26. 
This annual event was part of Religious Liberty Week, which began on June 22, the feast of martyrs Ss. Thomas More and John Fisher and continues through June 29, the solemnity of Ss. Peter and Paul.
"Our God is a God who wants his people to be free," said Father Rutkowski in his homily, citing many instances of martyrs dying for their faith, from Old Testament times through the early Church and into the present day.
"We must realize that religious freedom is more than just freedom of worship," he said.
Father Rutkowski challenged the faithful to be bold in standing up for religious freedom, including the right to practice our beliefs in everyday life and not to be forced into practicing or supporting actions contrary to the faith. This must be done, he said, in the context of love.
"We stand up for religious freedom out of love for God," he said. "And we love our neighbor enough to speak the truth."  
There was also a special collection to benefit the I Support the 1% Food Pantry, which exclusively serves veterans in need.
Following Mass, the Knights of Columbus Color Corps led those gathered in a procession to Veterans Memorial Plaza for a brief ceremony to pray for and honor both veterans and those who sacrificed their lives for this nation. The service also included music, the playing of "Taps" and the placement of a wreath.