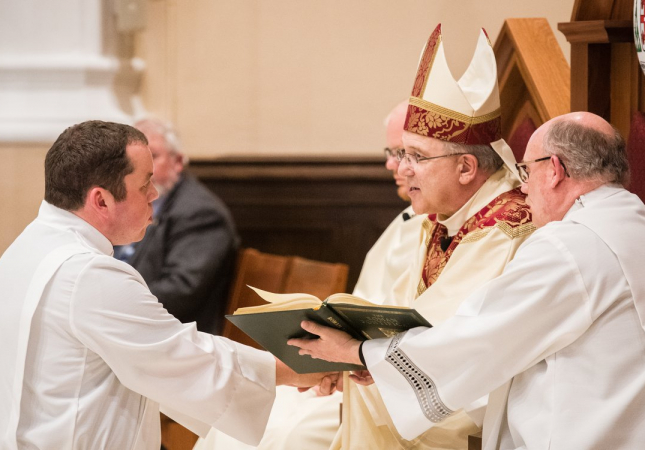 Bishop Joseph Cistone ordained Saginaw native Matt Federico to the Transitional Diaconate at the Cathedral of Mary of the Assumption in Saginaw on Friday, May 18. PHOTOS MAY BE VIEWED HERE
During the ordination Mass, Father Bill Rutkowski, Vicar General for the Diocese of Saginaw, presented Matt as a candidate for ordination. Following the homily delivered by Bishop Cistone, Matt promised "to discharge the office of deacon with humility and love, to hold fast to the mystery of faith, to proclaim this faith in word and deed, to embrace the celibate state, and to pray for the Church and the whole world," as well as a promise of obedience. He then lay prostrate before the altar as the congregation prayed the Litany of Saints.
Finally, through the laying on of hands and Prayer of Ordination, Matt was ordained a deacon. He then received his liturgical vestments— a stole and dalmatic. Matt was vested by Father Bill Taylor.
Bishop Cistone then handed on the Book of the Gospels, reminding Matt that he must believe what he reads, teach what he believes and practice what he teaches. Bishop Cistone and fellow deacons then exchanged a sign of peace with Deacon Matt.
A former accountant and auditor, Matt will be continuing his preparation to be ordained a priest next year.
"What excites me most about being a priest is helping others in times of need, whether it be a baptism, an illness, a funeral, or a wedding," he said.