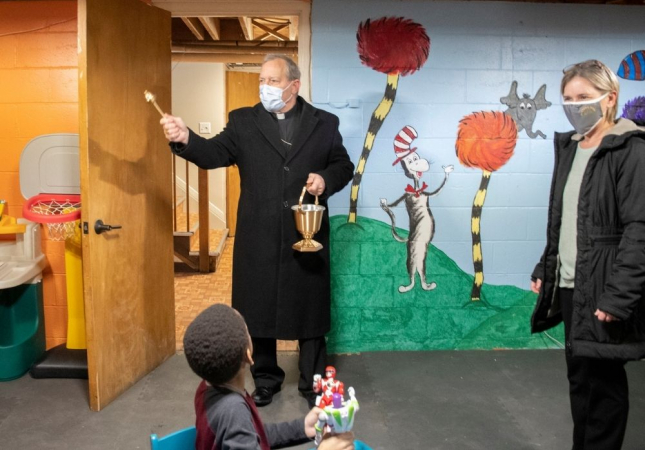 Photo: Bishop Gruss sprinkles holy water on the newly renovated children's playroom along with Amy Bartels Roe, and Jaymier, a resident at the shelter.
PRESS RELEASE FROM THE MUSTARD SEED SHELTER
SAGINAW, Mich.,– Mustard Seed Shelter has just completed renovations to its building at 1325 Cherry Street in Saginaw, bringing to a close an expansion and capacity building project that began more than three years ago. The 3,500-square-foot expansion was completed in July of this year, marked by a ribbon cutting and open house. On Friday, Dec. 18, Most Reverend Robert D. Gruss, Bishop of the Catholic Diocese of Saginaw, officiated at a small blessing of the home, with only a handful of board members, staff, volunteers and current guests in attendance.
"What a blessing this is for the community," said Bishop Gruss as he began his prayer in the frosty parking lot just outside of the home. "Peace lives here. Christ's love lives here."
After walking through and blessing each room in both the renovated home and the expansion, Bishop Gruss paused and surveyed the old family room, with its freshly re-finished wood floors and newly painted walls adorned with empowering messages and photos of previous guests. The old and new parts of the home connect here through a doorway in what was once an exterior brick wall.
"This is a remarkable reflection of Christ's love for his people – caring for the most vulnerable in their moments of greatest need," said Bishop Gruss. "In a very real sense, Mustard Seed represents both the corporal and spiritual works of mercy in the work they do every day."
In her remarks, Executive Director Amy Bartels Roe reflected on the long history of the home on Cherry St., which was originally the rectory for Sacred Heart Church. Mustard Seed first moved to this location in 2002 from its first home on Holland Ave., a move that gave them the necessary space to welcome women with children. Prior to 2002, the former rectory served as a retreat center and even as a police substation.
"We are thrilled to celebrate the completion of this final part of our 'Extend the Branch' project," said Bartels Roe. "This was definitely not a typical capital campaign – and early on, we embraced the knowledge that the project would follow God's timing, not ours. It was clearly God's plan for us to be ready to welcome women and children just in time for Christmas. In fact, our first guests to stay in the family wing arrived just last night – a mom and two of her children who had been living in completely substandard conditions. What a tremendous blessing to provide them with a safe and welcoming space, especially this time of year. It's truly a sign of hope and possibility in a year particularly filled with difficulty and challenge."
The expansion portion of the project was completed in late July and all 10 of the new rooms were filled by the first week of August. The new wing is designated for single women experiencing homelessness, while the existing home has been refurbished to accommodate women with children. According to Bartels Roe, all of the renovations were completed by volunteers.
Renovation Highlights
Created seven guest bedrooms designed to accommodate families (up to 25 women and children)

Moved doors and built new walls so all bedrooms have hallway access to maintain privacy and distancing

Installed new flooring, built custom benches and table, and installed new and reclaimed cabinets in dining room

Sanded and refinished wood floors in living room and entire upstairs.

Repurposed several doors to create learning areas for children, as well as hospitality spaces and vanities

Installed glass block windows in basement bathroom and laundry room to bring in natural light

Transformed cluttered office into parlor/private intake and counseling office

Repainted walls and ceilings and updated window treatments throughout

Spruced up and deep-cleaned playroom; new Dr. Seuss mural painted by local high school student

Relocated giveaway room to larger area in new basement with repurposed shelving

Reorganized existing and added new storage areas

Updated electrical, plumbing and lighting

Updated heating and cooling with special air handling units (COVID-19 funding)

Purchased easier-to-clean furniture – beds, mattresses, misc. chairs and tables (COVID-19 funding)
"While we started fundraising in late 2017, this project has been five years in the making," said Bartels Roe. "It all began with a grateful former guest and a backyard barbecue, at what turned into a celebration of our 20th anniversary. It's fitting that we are ending our 25th year with the culmination of the project. Throughout, we have been overwhelmed by the outpouring of support received, the incredible generosity of hundreds of financial and in-kind donors – from local and national businesses, organizations and foundations, to churches and individuals – and also the many dedicated volunteers who have worked tirelessly to help our vision become a reality. This has truly been a community endeavor and a labor of love for all involved. It's important to note, too, that our beds have remained full through the entire project, a constant and humbling reminder of the need – and the reason we embarked on this journey."
Expansion/Renovation Project Milestones
2015 – 20th anniversary celebration organized by former guest; news article draws attention of a local family who encourage expansion of the shelter to meet increased demand and offer financial support

2016 – Board explores renovation, expansion options; R.C. Hendrick & Son engaged as general contractor

2017 – Board unanimously approves project and capital campaign; architectural drawings completed and approved by City of Saginaw; project announced at annual fundraiser and $120,000 committed toward project by year end

2018 – Patty Shaheen becomes honorary campaign chair; Charlie Wargel becomes project manager; Delta College residential construction class build walls; donations and pledges exceed $500,000, passing halfway point for $1 million campaign target

2019 – Construction phase begins with June 13 groundbreaking; excavation begins September 19; building closed in and work continues through winter

2020 – Construction continues through shutdown; cabinets built at Ionia Correctional Facility through Michigan Dept. of Corrections Prison Build Program; July 22 dedication and ribbon cutting for expansion; renovations on family wing begin in August and are completed in December; project concludes with blessing of full home December 18
About Mustard Seed Shelter
Since its founding in 1995, Mustard Seed Shelter has welcomed more than 1,250 women and children, providing emergency shelter to more than 60 individuals annually and assisting more than 90 people each year with permanent supportive housing services. Following completion of an expansion and renovation project in December 2018, Mustard Seed now has 17 new and refurbished rooms to shelter up to 35 women and children, more than double its previous capacity. Mustard Seed also helps families successfully transition from homeless to housed with household starter items and essentials such as furniture, toolkits and cleaning supplies through its NEST (Neighbors Empowering Success Together) program. Learn more about how to get involved at themustardseedshelter.org and on Facebook.
# # #
For further information, contact:
Amy Bartels Roe
989-295-8392