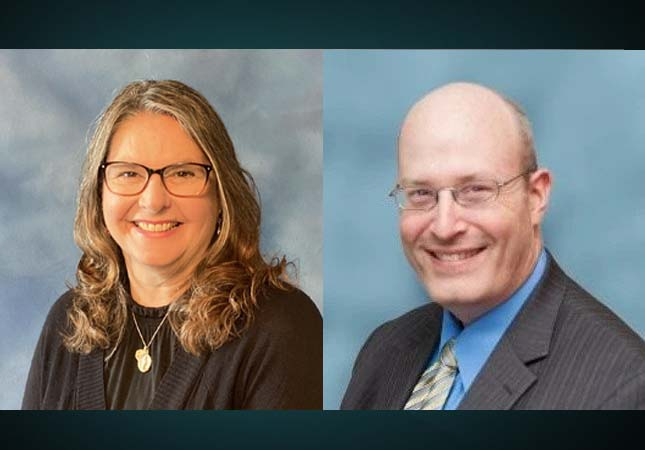 When Bishop Robert Gruss became Bishop of the Diocese of Saginaw in July 2019, he said he planned to spend the first year listening and learning about his new diocese. So, throughout the second half of 2019 and into 2020, he began getting to know his priests and parish leaders, diocesan staff and members of the faith community. Then, in March 2020, the pandemic changed life as we knew it.
Livestream Masses and virtual ministry began immediately, replacing the opportunity for in-person gatherings.
By Memorial Day 2020, churches reopened their doors with strict safety guidelines. The following month, June 2020, Bishop Gruss moved forward with plans to continue listening to and engaging those entrusted to his spiritual care.
With a desire to best meet the needs of the parishes and the people of God in the 11 counties of the diocese, Bishop Gruss enlisted support from the Catholic Leadership Institute (CLI) on a re-envisioning process. As part of the process, CLI surveyed and interviewed key stakeholders regarding the current structure of the chancery, looking to uncover opportunities to better support the people and parishes.
Office of Parish Life and Evangelization
During the work of re-envisioning the chancery, which remains ongoing, the need for an Office of Parish Life and Evangelization was identified.
Kellie Deming (photo above left), a lifelong member of the Diocese of Saginaw, has been named the Director of the Office of Parish Life and Evangelization. In this role, she will serve as a member of the Bishop's cabinet and will be the bridge between the diocesan offices, the clergy, religious and lay leaders with respect to evangelization and pastoral resources.
For the last eight years, Kellie, who has been a commissioned lay minister since 1997, has served as Coordinator of Lay Ecclesial Ministry for the Diocese of Saginaw. During her time as Coordinator of Lay Ministry, Kellie has been instrumental in facilitating a renewed emphasis on the theological, spiritual and pastoral formation of our lay community.
Prior to her role at the diocese, Kellie was actively involved in parish ministry, both as a parish staff member, serving as Director of Religious Education, and as a volunteer. She has a Bachelor of Science degree in business administration, is certified in human resources with an emphasis on talent strategy, building high performance organizations and developing organizational culture. She is certified in Myers-Briggs Type Indicator and a facilitator of the Servant Leadership Model.
"I look forward to transitioning into this ministry God has placed before me," Kellie said. "It's an honor and a privilege to be part of this new office. The Spirit of God is at work. I am excited to help our team partner with our parishes in a greater capacity as we reach out and bring the love of Jesus Christ to the hearts of people across our diocese.
Kellie and her husband, Thomas, have three adult sons and are members at St. Gabriel Parish in Auburn.
Kellie will transition into her new role effective August 1, 2021.
Office of Stewardship and Development
As part of the re-envisioning process, the Office of Development, which has been without a director for several years, has been renamed as the Office of Stewardship and Development. Joseph Stong (photo above right) has been hired as its new director. In his position, Joe will lead and manage a team within the Development Office to provide strategic direction and coordination for all diocesan stewardship and fundraising efforts and initiatives, including Christ's Mission Appeal. He and the Development Team will also be responsible for enhancing the capacity for all Catholics to participate in the mission of Jesus Christ through good stewardship of their gifts of time, talent and treasure.
Joe, a Detroit native, spent formative years in Ohio, Minnesota and Michigan before graduating from Brother Rice High School in Birmingham, Michigan, in 1988. He spent several years studying for the priesthood in Spain, Italy, and America and received a degree in Philosophy from the Pontifical Athenaeum Regina Apostolorum in Rome, Italy, in 1999.
Discerning that a priestly vocation was not his calling, he returned to the U.S. and has been involved in fundraising for a wide spectrum of charities. He was Assistant Director of Catholic World Mission, a nonprofit that supports the poor in Latin America, Registrar at what is now Divine Mercy University and a Major Gift officer for American Life League and Freedom Alliance. He served as Vice President of Development for the Lake Orion, Michigan based Catholic ministry called Guest House for five years and then was Director of Stewardship and Development for the Diocese of Savannah for six years prior to moving to Lander, Wyoming to raise support for Wyoming Catholic College.
"I'm excited to move to the Diocese of Saginaw and hope to hit the ground running," Joe said. "It's a big change, but I'm looking forward to meeting and working with all those who have a fire in their heart for Jesus Christ and a passion to introduce Him to others."
Joe and his wife have six children. Until last year his parents lived in the Saginaw Diocese and he has many friends and relatives in the area whom he has visited over the last two decades.
Joe will be relocating to Michigan and transitioning into his new role effective August 16, 2021.