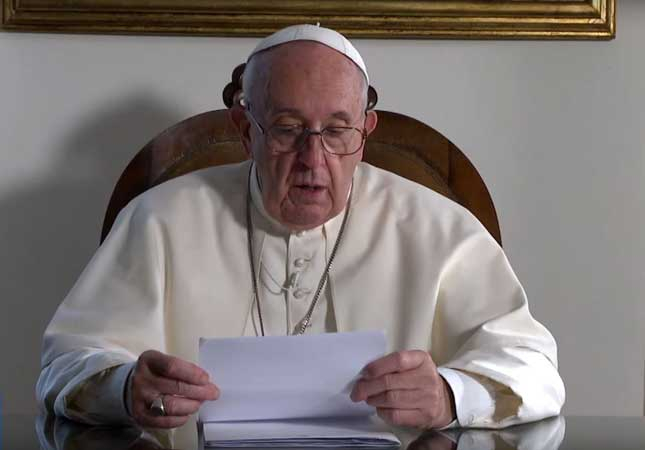 CLICK HERE TO VIEW THE VIDEO MESSAGE 
Pilgrims from the Diocese of Saginaw attending the National Catholic Youth Conference (NCYC) received a surprise message via video last night from Pope Francis. In the message, delivered Thursday, Nov. 22, Pope Francis shared the following with NCYC attendees: 
"I send you an affectionate greeting and my prayers at this moment of encounter that you are living. May it be an opportunity to strengthen and deepen your faith and communion. May it light your missionary hearts with the courage and strength to live in and with the Lord always as a church sent forth. Today, as in the beginning, we need to go out to meet each person, as it is our mission to do so, especially with those most separated and those who are suffering most. We must reach the existential peripheries of our world. You know from your everyday life that many are alone, that many do not know Jesus. Go, go and take the Lord with you. Go and fill your surroundings, even the digital ones. Not of convictions. Not to convince others. Not to proselytize but to bear witness of the tenderness and mercy of Jesus. 
I bless you with all my heart. And don't forget to pray for me. Thank you."
More than 120 young people from 13 different parish communities across the Diocese of Saginaw are attending NCYC. The conference typically draws up to 25,000 people from all over the country.
NCYC includes opportunities for our young people to experience an encounter with Jesus Christ and His Church. They participate in the celebration of Mass, attend sessions with nationally known speakers and hear incredible Christian music. There also are workshops, opportunities for prayer and of course, a lot of fun!
Learn more about the event and watch live video of the event by clicking here.