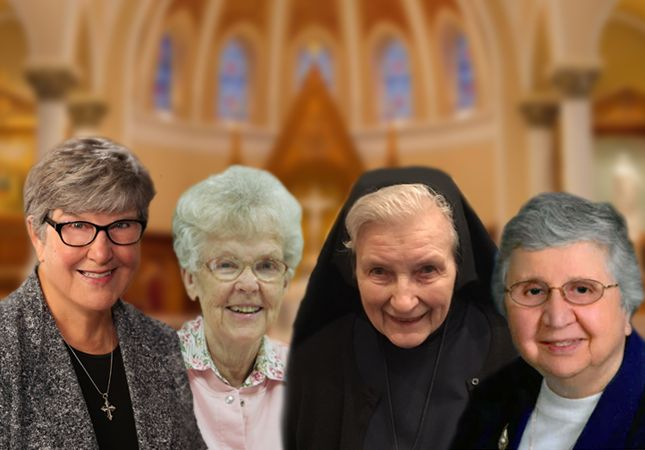 Left to Right: Sister Joan Foley, OP; Sister Laurene Marie Burns, OSC; Sister Mary Rita Rae Schneider, R.S.M.; Sister Corinne Weiss, SJ
On Wednesday, May 15, at 5:30 p.m., Bishop Walter A. Hurley, Apostolic Administrator of the Diocese of Saginaw, will preside at Mass for the 2019 Religious Jubilee Celebration at the Cathedral of Mary of the Assumption in Saginaw. All are welcome.
Representing four religious congregations, the jubiliarians have served the faithful for a combined 270 years in a variety of capacities and locations. During the Mass, they will renew their commitment to religious life. Special recognition will be given to the following jubilarians:
Celebrating Seventy years:
Sister Laurene Marie Burns, OSC
Sister Laurene was born in Columbus Ohio, one of ten children. Her religious vocation began in 1947, and with profession of vows in 1949, she entered the Poor Clares in Canton, Ohio. In 1952, during a time of growing religious vocations in the Catholic Church, her Canton community increased significantly to establish a new monastery in Washington, D.C. She moved to Washington, D.C. to help develop this new monastery community. After the second Vatican Council in 1965, she met sisters from the Poor Clare community in Minneapolis and, in 1967, transferred to the Poor Clare monastery in Minneapolis, Minn.
In 1991, she was among the group of four who accepted Bishop Ken Untener's invitation to establish a contemplative community in Saginaw.

Over her 90 years and 72 years in religious life, her creativity has expressed itself in macramé, crocheting, and cooking. She crochets prayer shawls for people who are ill. She gives them freely with the promise of her continuing prayers.

Sister Laurene says that her spirituality is anchored in "gratitude for God's redeeming love," and often expresses her prayers. When I am creative with my hands. Then I become absorbed in the abundance and creativity of God."

In addition to working with her hands, Sister Laurene enjoys reading, classical music and playing Scrabble.
Sister Mary Rita Rae Schneider, R.S.M.
Sister Mary Rita Rae was born and raised in Detroit, Mich. She made first vows with the Adrian Dominicans in 1949. Her first teaching assignments included third grade in Oak Park, Ill. for three years, second grade in Rockford Ill. for two years, and first grade in Fort Lauderdale. Fla. for four and a half years. From there, she was missioned to teach in Nassau, Bahamas for three and a half years and then was missioned back to Detroit, Mich. where she taught at St. Theresa High School.
Sister Mary Rita Rae transferred to the Community of the Religious Sisters of Mercy in in Alma, Michigan in 1977. As a Sister of Mercy, she taught in Halifax, Nova Scotia where she also conducted research in the areas of work and education and their relationship with one another among high school students. From there, Sister Mary Rita Rae moved to Portland, Ore., where she served as Assistant Superintendent of Catholic Schools and as Commissioner of Catholic School Accreditation.

In 2010, Sister Mary Rita Rae was appointed as Principal of St. Clare School, pre-school-grade 8 in Edwards, Colorado where she served until June, 2012 when she was missioned back to the Motherhouse in Alma, Michigan to serve as an Archivist for the Community.
Sister Corinne Weiss, SJ
From Sister Corinne: "As I celebrate this special threshold in my religious life, I am filled with joy and gratitude for the countless blessings I have received over the past 70 years.

I was born into a primarily Polish neighborhood in Detroit, the oldest girl among the six children of Antoinette and Frank Weiss. We were lifelong members of Saint Hyacinth Parish and the elementary school served by the Felician sisters. They gave me the first insight into and attraction to religious life. After three years at the Felician Academy High School, I entered the Novitiate in June, 1949.
I was fortunate to earn a BA in English and Journalism at Madonna College as well as an MA in Journalism at Marquette University. This background, as well as additional studies at a number of distinctive institutes, well prepared me for the ministry of education in which I was engaged for almost 60 years. This included several high schools in the Detroit area, Saint Mary Cathedral High School in Saginaw, 27 years as Principal of Saint Helen School in Saginaw and the Mission Coordinator for the Diocese of Saginaw. Working with profoundly dedicated men and women, young adults learning the challenges of high school publications, caring families and energizing elementary school children truly comprised the highlights and joys of my life in ministry.

In 1974, I joined a group of sisters who were forming a new community, the Servants of Jesus, in the spirit of Vatican II. Living community life, our mission and ministry with these Sisters and our associates has filled my heart and soul for the past 45 years with the love of God, God's people and the ever deepening call to "Live as Jesus lived and serve as Jesus served." (from Servants of Jesus statement)
Celebrating Sixty Years: Sister Joan Foley, OP
Sister Joan was born in Saginaw, Mich. Her parents, Eleanor and James Foley, raised nine children, of which Joan was the middle child. She was baptized at Saint Andrew Church in Saginaw. Her family moved, becoming members of Saints Peter and Paul Parish where Joan was educated and received sacraments under the guidance of the Dominican Sisters.

Sister Joan's parents were founding members of Saint Thomas Aquinas Parish. The family was very actively involved in the parish. Sister Joan enjoyed singing in the choir and it was there that she experienced her first true sense of parish life.
Her call to religious life came in a most unusual manner. While skating at the Brockway Roller Rink, her friend and classmate said she was going to join the Dominican Sisters at Marywood and invited Joan to join her. Strange as it may seem, Joan remained to take final vows. Her friend Pat chose another vocation. She left and married becoming the very happy mother of two children.

After four years of studies, Joan received a BA degree from Aquinas College and was assigned to teach elementary classes at Saint Mary Parish in Carson City, Mich. During the summer, it was back to Aquinas to study and earn an MA in Religious Studies. Sister Joan ministered in parishes in the Grand Rapids, Gaylord, Detroit and Lansing Dioceses.

Assignments in the Diocese of Saginaw were: Saint Joseph, Beal City/Winn; Our Lady of Lake Huron, Harbor Beach; Our Lady of Perpetual Help, Chesaning and Saint Joseph, Bay City.

As a retiree, Sister Joan served as a receptionist at Marywood, data input for the Visiting Nurses Program, Grand Rapids, and The Stephens' Ministry, Grand Rapids. She also performed data input and filing for the Community Prescription Support Program, Saginaw and taught in The Literacy Program, Saginaw.

Now Sister Joan visits friends who are homebound and in assisted living.