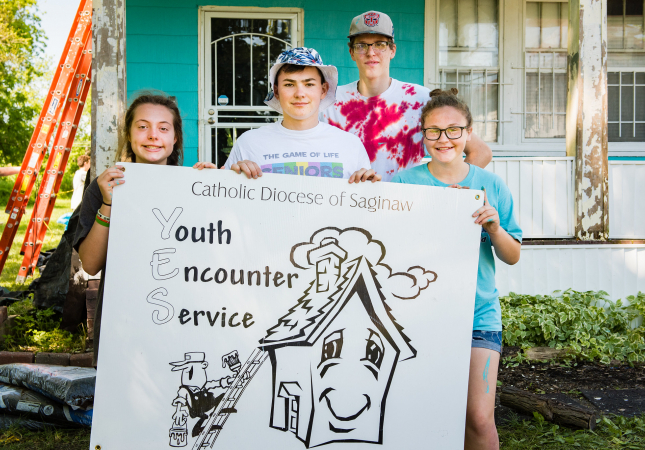 Youth Encounter Service, or Y.E.S., is back! Y.E.S. is a weeklong, local service camp and immersion experience sponsored by the Diocese of Saginaw from June 19 to 24.
Y.E.S. gives high school students an opportunity to learn about and fight poverty, while reaching out to the poor.
Do you know a high school student or someone entering high school in the fall who might be interested?
Madelyn Snider participated in 2019. In the video below, Madelyn says, "It was one of the most rewarding things I've ever done."
Youth spend five days of their summer vacation sprucing up yards and making minor repairs to homes in the city of Saginaw. In addition to hands-on work, participants learn more about Catholic Social teaching.
Part of the week is spent volunteering at local outreach organizations such as the East Side Soup Kitchen, City Rescue Mission and Mustard Seed Shelter. Evening activities include guest speakers, prayer and reflection on the experiences of the day.
"There's a miraculous thing that happens during the week that we're here," says Nikki Bakos, Co-Director of Youth Encounter Service. In this video, she discusses the impact it has on the community.
Details
The fee for the week is $150.00; this includes overnight accommodations, all meals, transportation all week long, evening programs, work materials and socials. Lodging will be provided at St. Dominic Parish, SS. Peter and Paul Campus, 4735 W. Michigan Ave, Saginaw.
Contact us to learn more or to register