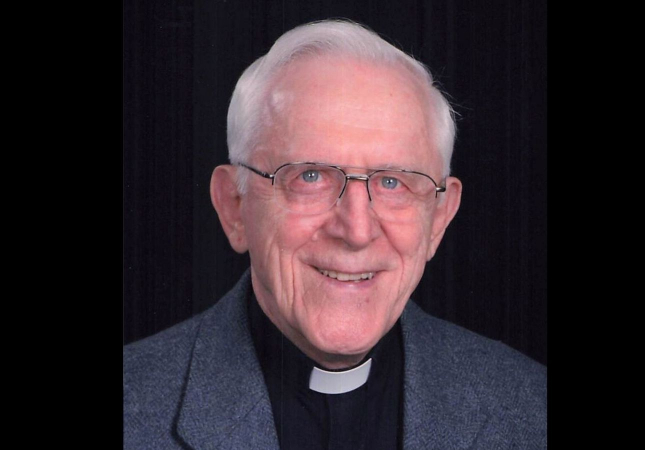 Video of the Funeral Mass
New archival video from Father Sikorski's time as a missionary in Brazil
We recently received a video featuring Father Sikorski from the Archdiocese of Detroit, which produced the video, "Mission at Recife." Father Sikorski was featured in this film. He was serving as a missionary and sharing the Good News of Jesus Christ with the poor in Recife, Brazil.
Click here to hear and see Father Sikorski pray and minister in the streets while serving the People of God.
About Father Harry Sikorski
Father Harold "Harry" Raymond Sikorski, a senior priest of the Diocese of Saginaw, died on Sunday, Oct. 10, 2021. He ministered as a priest for more than 65 years in many ways including serving as a spiritual director, superintendent of schools, overseas missionary and more.
Father Sikorski was born on Dec. 15, 1929, in Saginaw. He is the son of the late Peter and Anoinette (Bartkowiak) Sikorski. Father Sikorski attended St. Rita grade school, Central Junior High School, Saginaw High School and St. Joseph High School. He received priestly formation at St. Joseph Minor Seminary in Grand Rapids and continued his formation at Sacred Heart Major Seminary in Detroit, where he graduated with a degree in philosophy and at American College of Louvain in Belgium where he graduated with a degree in theology. He was ordained to the priesthood on July 1, 1956, by Bishop Russell J. McVinney in Louvain, Belgium. He was incardinated into the Diocese of Saginaw on May 22, 1954.
Father Sikorski served as pastor of Holy Spirit, Shields; Sacred Heart, Saginaw; St. Mary of Czestochowa, Kinde; St. Edward the Confessor, Kinde; St. Paul the Apostle, Ithaca and St. Martin de Porres, Perrinton. He served as assistant pastor at St. Bernard, Alpena and also served at St. Mary, Alpena.
Father Sikorski served as the assistant principal of Alpena Catholic Central in Alpena and also as Diocesan Superintendent of Schools and Assistant Superintendent of Schools. He also served as a spiritual director in Louvain, Belgium and as a missionary in Brazil where he served at Our Lady of Lourdes, Recife, Pernambuco (Brazil).
Father Sikorski became a senior priest of the Diocese of Saginaw on July 1, 1994.
Visitation and Funeral at the Cathedral of Mary of the Assumption, 615 Hoyt Ave., Saginaw
Visitation took place on Thursday, Oct 14 from 1 p.m. to 4 p.m., with a vigil for the deceased at 4 p.m. Father Bert Gohm presided. The visitation continued at 10 a.m. on Friday, Oct. 15 and the funeral Mass began at 11 a.m.
The Most Rev. Robert D. Gruss, Bishop of Saginaw presided at the funeral Mass and Father José Maria Cabrera was the homilist. Priests of the Diocese of Saginaw concelebrated the funeral Mass. The Rite of Committal took place at Mount Olivet Cemetery, 3440 S. Washington, Saginaw.