Diocese of Saginaw Emergency Relief Donation Page
---
Morocco Earthquake Relief
Earthquake Relief Needed – On Friday, September 8, a magnitude 6.8 earthquake struck Morocco near Marrakech.
More than 300,000 people are affected and at least 2,490 were killed. Access to remote areas with the worst destruction—especially in mountain towns—remains difficult. This is the strongest earthquake to hit Morocco in over a century. Hundreds of thousands of people are struggling to contact loved ones and access immediate aid, including safe shelter, clean water, food, and medical assistance. The enormity of loss and grief is widespread as people navigate the aftermath of the quake—and any potential aftershocks.
The global Caritas community, including CRS, is supporting Caritas Rabat with meeting both urgent, lifesaving needs, as well as with long-term recovery. Priorities are likely to include:
Emergency safe shelter.
Food.
Clean water and hygiene supplies.
Living supplies such as blankets and kitchen wares.
Support for medical assistance and counseling.
Plans for the support of longer-term recovery for homes, infrastructure, and livelihoods.
The Diocese of Saginaw will have a special collection to show our solidarity as a Catholic faith community and lend a helping hand to those who have lost so much. Every donation, no matter the amount, will play a crucial role in helping to rebuild lives and restore hope. In our collective prayers, we ask for strength, resilience, and healing for the earthquake victims and their families. For more information, please contact Maria Coss at mcoss@diosag.org or call 989.797.6646. To donate, fill out form below or send checks made payable to the Diocese of Saginaw, Attn: Maria Coss, 5800 Weiss St, Saginaw MI 48603, with the memo line reading "Morocco Earthquake".
---
Maui Fire Relief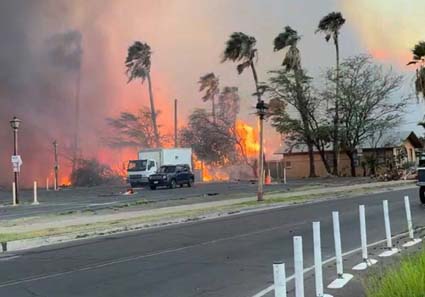 Our thoughts and prayers are with all those affected by the devastating wildfires that have ravaged the island of Maui. As a community of faith, we are called to come together and provide unwavering support to those who are suffering. It is in times like these that our collective love, faith, and compassion can make a tremendous difference.  The Diocese of Saginaw is  having a  special collection to show our solidarity as a Catholic faith community and lend a helping hand to those who have lost so much. Every donation, no matter the amount, will play a crucial role in helping to rebuild lives and restore hope. In our collective prayers, we ask for strength, resilience, and healing for the fire victims and their families.  For more information feel free to reach out to Maria Coss (989) 797-6646 
Donate using form below or send checks made out to the Diocese of Saginaw att: Maria Coss with the memo line reading "Maui Relief" 5800 Weiss St. Saginaw MI 48603 
Maui Fire Relief Donation Form