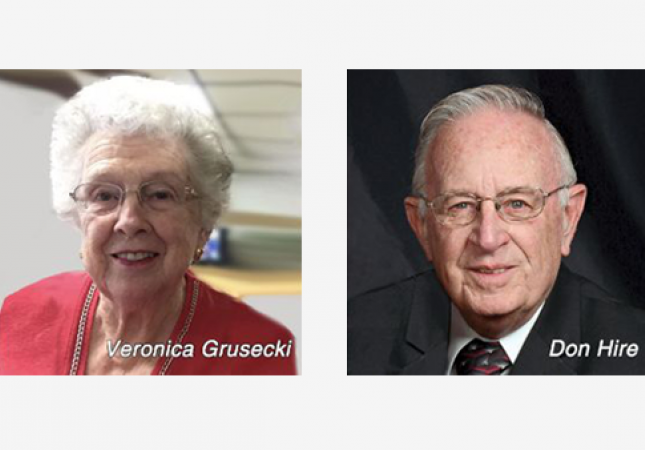 SAGINAW — Mrs. Veronica Grusecki and Mr. Don Hire are the recipients of the 2019 Bishop Murphy Award. Mrs. Grusecki is a member of St. Catherine of Siena Parish in Bay City. She is known for devotion to her parish community, volunteer work at a local hospital and ministry to the elderly and homebound - which began over 50 years ago. Mr. Hire, a member at Most Sacred Heart of Jesus Parish in Mount Pleasant, is known for his year-round fundraising for his parish and school community, volunteering decade after decade at the Lenten fish fry, and his work with a "Christmas Outreach" program in Isabella County. Mr. Hire also helps guide a non-profit organization which provides financial assistance to cancer patients. 

"These two individuals embody what it looks like to share the Good News of Jesus Christ in today's world," said Bishop Walter Hurley, apostolic administrator for the Diocese of Saginaw. "Everyone can learn a little about service and hospitality from them."

At 94 years old, Mrs. Grusecki is still involved in a variety of projects at her parish and regularly volunteers her time at the local hospital's outpatient surgery center. She started delivering meals to the elderly and homebound more than 50 years ago and continues that ministry today. Mrs. Grusecki has been an Extraordinary Minister of Holy Communion for decades and also started the parish's prayer line. She drives friends and elderly family members to Mass and is an active member of the women's auxiliary of the local Knights of Columbus.

Mr. Hire is known as the "go-to" person when volunteers are needed at his parish. He is actively involved in a "Christmas Outreach" program in Isabella County – not only carving wooden toys for children by hand, but also organizing volunteers (including teens from area youth groups) and delivering the gifts. Mr. Hire is an energetic member of the Mount Pleasant Rotary Club. He is on the board of directors for the Pardee Cancer Treatment Fund, a non-profit community organization providing financial assistance to patients undergoing cancer treatment. At his parish, Mr. Hire is involved in several activities, including selling raffle tickets and volunteering each week during the Lenten fish fry.

The Bishop Murphy Award recipients will be honored during a reception on Thursday, Aug. 8 at 6 p.m., at the diocesan Center for Ministry, 5802 Weiss St., Saginaw. Tickets may be purchased now by clicking here. All are welcome.

The Bishop Murphy Award recognizes the lifelong commitment of individuals who share and live their Catholic faith in ways that continue the evangelizing mission of Jesus Christ. The award is presented to individuals who have given witness throughout their lives, in word and deed.

 The following is a list of past award recipients along with their parish and/or organization and the year in which they received the Bishop Murphy Award: Sister Elaine Raymond, MSSp, Christ the Good Shepherd Parish, Saginaw (2018) and Charles Wargel, Christ the Good Shepherd Parish, Saginaw (2018); Leona Jones, St. Elizabeth Parish, Reese (2017) and Patricia Murdock, Holy Name of Mary Parish, Harbor Beach (2017); Olympia DeAgostino, Cathedral of Mary of the Assumption, Saginaw (2016) and Marie Wrocklage, St. Michael Parish, Maple Grove (2016); Oscar Mendoza, Holy Spirit Parish, Shields (2015);  Katherine Maurer, St. Frances Xavier Cabrini Parish, Vassar (2014) and Mark Morand, Our Lady of the Visitation Parish, Bay City (2014);  Kenn Bueche, Chesaning Area Emergency Relief Organization, Chesaning (2013) and Sister Marietta Fritz, S.N.D. de N, Emmaus House, Saginaw (2013); Edna Kujawski, St. Agatha Parish, Gagetown (2012); Sister Maureen Donovan S.C., Sisters of Charity, Bay City (2011); Dr. Donald Campbell, St. John the Evangelist, Essexville (2010); Bishop Robert J. Carlson, Diocese of Saginaw (2009); Sister Corinne Weiss, SJ, Diocese of Saginaw (2008); Stanley Krajkowski, St. Casimir Parish, Saginaw (2007).

The Catholic Diocese of Saginaw was established by Pope Pius XI on Feb. 26, 1938. Today, it includes 6,955 square miles across Arenac, Bay, Clare, Gladwin, Gratiot, Huron, Isabella, Midland, Sanilac, Saginaw and Tuscola counties.