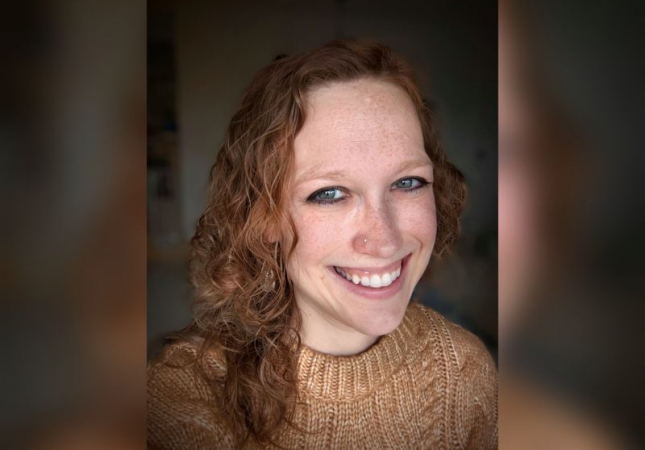 The Diocese of Saginaw today announced that Mrs. Danielle McGrew Tenbusch has been named as marketing and admissions coordinator, a position created to serve the Diocesan Office of Catholic Schools.
The hiring of Mrs. Tenbusch is part of Bishop Gruss' initiative announced in April - Our Catholic Schools: Centered in Christ, Committed to Excellence - which is dedicated to strengthening and growing Catholic schools in the Diocese of Saginaw. 
An award-winning writer, photographer and editor, Mrs. Tenbusch has worked with clients throughout Michigan for nearly a decade. She has partnered extensively with the Diocesan Office of Communications and FAITH Saginaw magazine over the last eight years to share stories of faith and inspiration across our 11 counties.  
"It has been a joy to spend time in our Catholic schools as part of my work for the Diocese," Mrs. Tenbusch said. "I have been blessed to witness and share stories of faith in action and I will now be able to partner with our schools daily. This is an exciting opportunity and moment in the history of our schools, and I look forward to seeing what the Lord has in store." 
In her new role, Mrs. Tenbusch will work closely with building principals and appropriate stakeholders to coordinate and implement marketing, enrollment and communication plans to support Catholic school education. This will include assisting in the creation of school communication materials, as well as measuring and analyzing enrollment and retention patterns.  
"Danielle brings with her a clear passion for our Faith and a strong history of collaboration with the Diocese and our Catholic schools," said Superintendent of Catholic Schools Cormac Lynn. "Her preexisting relationship with many school leaders will allow her to quickly and effectively become engaged in this important work." 
To further support schools, Mrs. Tenbusch will oversee a marketing initiative, with the support of FAITH Catholic, that will include trainings and professional development, as well as a vast array of digital and print media materials for our schools.  
"Her talent as a writer and storyteller will allow us to more effectively communicate the great things happening in our schools to current, prospective and alumni families, as well and across the entire diocese," Superintendent Lynn said. 
Mrs. Tenbusch has been married for almost seven years to her husband Jeffery, and they live in Bay City with their two young sons. They are members of All Saints Parish.  
"I believe in Bishop Gruss' vision for a new springtime here in the Diocese of Saginaw, and I am grateful for his commitment to Catholic education," Mrs. Tenbusch said. 
To share Catholic school story ideas or connect with Mrs. Tenbusch, you can email her or call (989) 797-6658.  
FIND A CATHOLIC SCHOOL NEAR YOU