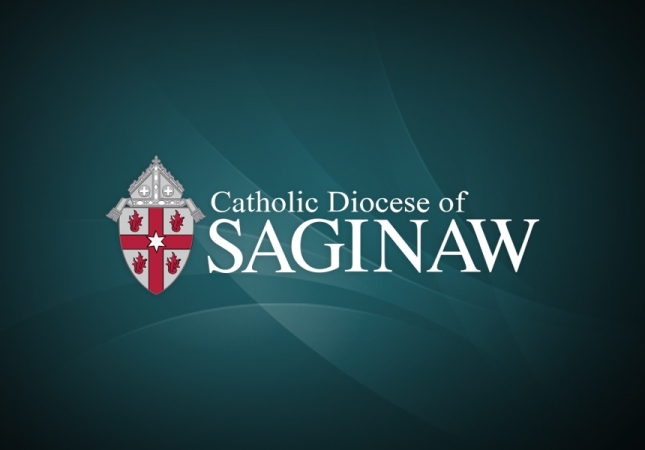 SAGINAW — Despite having lost much of his voice due to radiation and chemotherapy treatments for lung cancer, the Most Rev. Joseph R. Cistone, Bishop of Saginaw, addressed those gathered for weekend Masses at St. Agnes Parish in Freeland. He expressed his solidarity with those present during the painful days following the arrest and subsequent criminal charges filed against their pastor, Father Robert (Bob) DeLand. 
"I am deeply distressed and broken hearted over these allegations," Bishop Cistone shared with the faithful on both Saturday and Sunday. "Most especially, my thoughts, prayers and empathy go out to anyone who may have been victimized. We know that the trauma runs deep and long not only for the victims but for their family and loved ones as well. We stand ready to assist them."
Bishop Cistone encouraged any victims to come forward to the civil authorities in charge of the investigation, and committed, once again, on behalf of the Diocese of Saginaw, to cooperate fully with law enforcement.
 " … being made aware of these allegations, like many of you, my emotions have moved back and forth from compassion, sadness and concern to anger, betrayal and a sincere desire for justice," Bishop Cistone said. "I can only imagine the deep hurt and betrayal that you must feel."
Addressing the need to provide for the ongoing spiritual care of St. Agnes parishioners, Bishop Cistone stated, "We are doing our best to appoint a parish administrator and sacramental ministry for weekend Masses and other parish liturgies in a timely manner. I need not tell you that we seriously struggle with a shortage of priests." 
"Though our trust is shaken, our Faith must remain strong," Bishop Cistone said. " … although we may be mistrustful of those who live and serve in the Church, we must never lose trust in the Lord or His Church.
"My dear brothers and sisters, you have my heart and my love. I weep with you and for you. I pledge my prayers and support during this painful time. Nevertheless, deep in my heart, I know that God is with us and our Lord, whose love is unconditional and everlasting, will see us through."
Complete text of Bishop Cistone's comments to the St. Agnes parish community may be found here