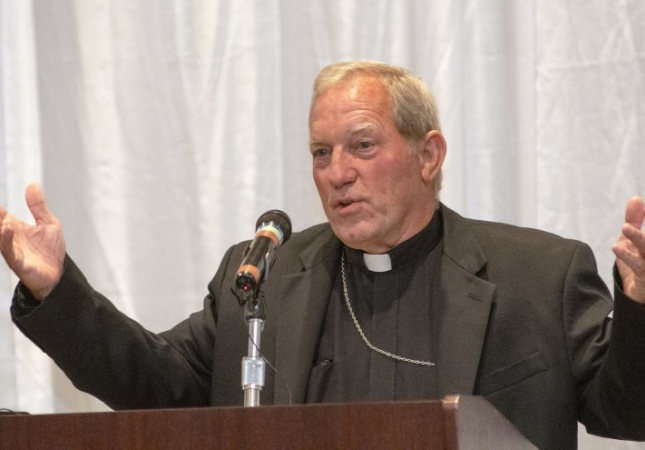 On Thursday, September 15, members of the faith community from across the Diocese of Saginaw gathered in Bay City for the Bishop's Banquet for seminarian education and vocations.
During his address, Bishop Gruss challenged those in attendance to do two things to help promote vocations. "If everyone does this, I'm convinced the Lord will change things in this diocese," Bishop Gruss said.  
"In the next month, invite a young man or young woman who is in your circle of influence, whomever they might be, whom you think has qualities you'd like to see in a priest or religious. Take the time to speak with them and share that you see these qualities in them. Then ask them if they've ever thought about the priesthood or religious life."  
Bishop Gruss went on to suggest that in this invitation a seed is being planted. After confirming that there were approximately 250 people in the room, Bishop Gruss asked those present to think about what the Lord could do with 250 invitations. He then shared he believes the Lord will be astounding in his generosity.  
The second challenge Bishop Gruss presented to the faithful was to pray with him during Holy Hours for vocations which take place twice every month at different parishes across the Diocese. 
"Vocations come about through diligent prayer, through fasting [take one day a week and fast for vocations] or through our sacrifices offered for this intention."
Bishop Gruss encouraged the faithful to make a sacrifice and go on pilgrimage with him around the Diocese to make these various Holy Hours.  
"There are vocations out there," Bishop Gruss said. "We only have to be a bit more diligent in working together in our vocation ministry and then ask your pastors how you can help in this endeavor in your own parishes."