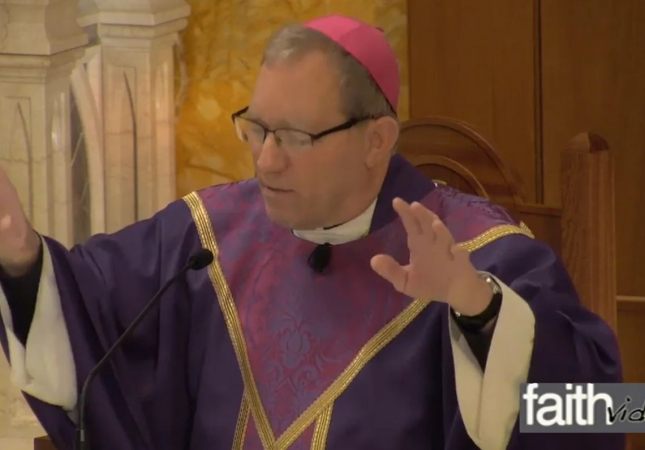 Watch full video of Bishop's Homily
"As a person of faith, do you expect miracles in your life?" Bishop Robert Gruss posed the question to faithful gathered for Mass today on the Feast of Saint Nicholas at the Cathedral of Mary of the Assumption in Saginaw.
 "There are those miracles awaiting us. Do we expect them? Do we ask for them?"
Both readings from today's Mass mentioned the miraculous. In his homily, Bishop Gruss encouraged the faithful, particularly during this Advent season to be like the blind men in today's Gospel reading who trusted that the Lord would come to their aid. 
Bishop Gruss reminded the faithful that Advent is not about waiting in a passive way, rather, "to expect something is to hope with this great conviction for that which we believe will come true.
"Celebrating the season of Advent helps you and me to live deeply in hopeful expectation. It helps us to live with true, expectant faith- expecting new miracles like those blind men. Knowing that the miracles of Jesus haven't ended for people who have this same faith."
Speaking of God's concern for his people, Bishop Gruss declared, "God has invested everything in you- everything! In taking on human flesh and coming among us. Jesus is our sign that God has not and will not give up on us. He has invested everything in us. Jesus is the first miracle for all of us."
Bishop Gruss ended his homily with the following prayer: "Lord Jesus, even though I can see, we often feel spiritually blind. Open our eyes to your reality so that we may be humble disciples of your kingdom. Lord Jesus, increase our faith in you and in your power over all the events and activities of our lives. Gives us the grace to live this season of Advent with true joyful expectation knowing that you desire to make all things new in our lives."