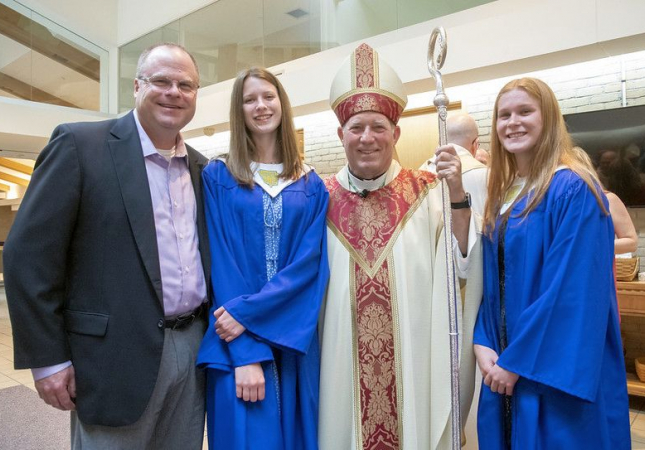 Photo: (Left to right) Brian Buckingham poses for a photo with his daughter Faith Buckingham, Bishop Gruss and Grace Buckingham.
Students from Nouvel Catholic Central High School's graduating class of 2022 recently joined Bishop Robert Gruss for a Baccalaureate Mass at St. Dominic Parish, St. Stephen Church, in Saginaw.
Parents, teachers and several priests also gathered for the celebration.
"Each of you have been uniquely created for a specific purpose in God's divine plan that God has given to no one else," Bishop Gruss said.
Bishop Gruss then shared Jesus' words from the Gospel of John, "It was not you who chose me, but I who chose you and appointed you to go and bear fruit that will remain."
"Become true leaders, dedicated students who desire to excel, even though the challenges may be greater than you have experienced before. Always seek to rise above the level of mediocrity," Bishop Gruss said.
Indeed, over the last four years, the 58 graduating seniors have collectively served 8,936 hours of service in the community. One hundred percent of the class of 2022 has been accepted to colleges or universities, including the University of Michigan, Michigan State University and the University of Notre Dame to name a few. Two graduates will serve in the armed forces.
Hope security and a confidence
"You have a vision for your future that is different from others around you," Bishop Gruss said. "You have hope, security and a confidence ... because you put your faith in a person. That person is Jesus Christ."
Bishop Gruss then encouraged the graduates to stay close to Jesus. He went on to say, "Jesus himself has said, 'Without me, you can do nothing.' But with him, what is possible is more than you can imagine. Stay close to him!
"It is my hope that because of and through the partnership among our families, schools, and parishes, all of our graduates will have witnessed, experienced, and grown in their faith," said Superintendent of Catholic Schools Cormac Lynn. "I pray that they will excel in all that they do, while always keeping Christ close to their hearts. If we can accomplish this, then we will have truly fulfilled our mission as a faith-based school."
A graduation ceremony was held at the Temple Theater in downtown Saginaw on Monday, May 23.