The Cathedral Rectory, 2014 
(Credit: Google Maps)
SAGINAW — One of the first decisions Bishop Robert Gruss made after being named seventh Bishop of Saginaw was a practical one … where he would live. A tour of the unoccupied Cathedral rectory on Saginaw's East Side made that decision pretty easy.

"He said, 'I really like this, and I could see myself living here'" said Bishop Walter Hurley, who gave Bishop Gruss a tour of the rectory. 

"It is important to be very much part of where the activity of the life of the church is going on," said Bishop Hurley, who serves as the diocese's apostolic administrator. "By moving into the city, I think it makes a statement about his commitment to the city, and also makes a statement about his connection with the parish community, and with the rest of the diocese as well."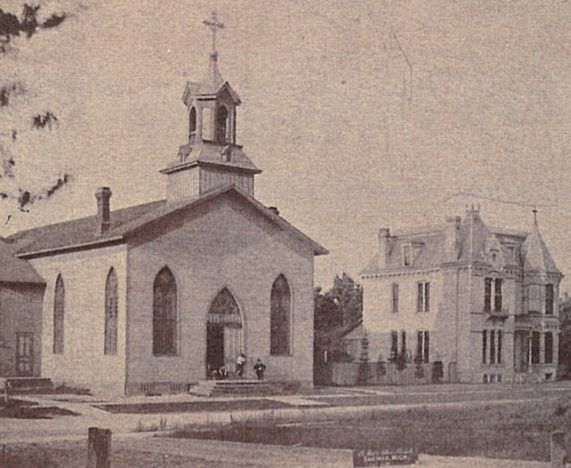 The Cathedral rectory is an historic home which sits on Hoyt Avenue. It was built in 1874, making it 145 years old. It was built several decades before the Cathedral of Mary of the Assumption, and photos show it stationed between the old St. Mary Church building and the former Catholic school. 

Some renovations will be necessary before Bishop Gruss, who serves as pastor of the Cathedral, moves in. There will be living quarters for the Cathedral rector, or priest in charge of the Cathedral parish, as well as space for parish meetings and events. The last renovation to the Cathedral rectory, which has been unoccupied for about two years, was done in 1949. 

"He's preserving a historic treasure that is part of the history and heritage of the Diocese of Saginaw," Bishop Hurley said. "It's a vote of confidence in the city, a vote of confidence in the neighborhood, and it looks like a win-win for everybody." 

In the Catholic Church, the cathedral serves as the center of the life of the local Church. The word "cathedral" means "chair" or "seat." From this seat of the diocese, the bishop teaches, sanctifies and guides the people entrusted to his care. Since 1938, St. Mary's has served as the Mother Church of the Diocese of Saginaw.