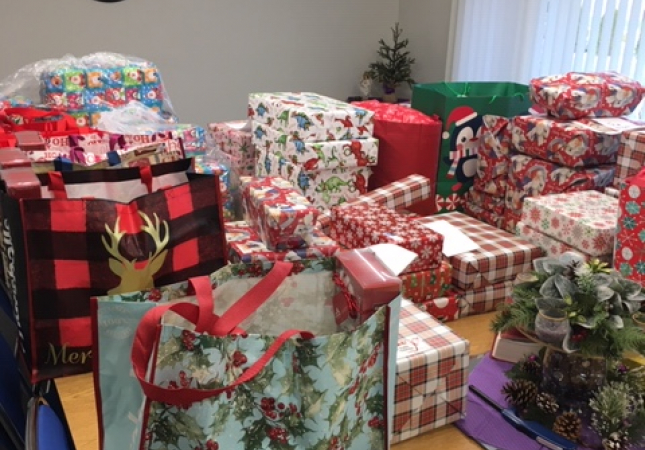 Inside these packages are wish list items from kids and young people in the area. You won't find toys or electronics. Instead, you'll find winter coats and boots, sheets and socks. A reminder of all those children who live without many basic necessities. 
While many children are asking for toys, clothes and electronics this Christmas, one parish said the requests it received from children and young people have been much different. 
"The kids are asking for bed-sheets, comforters, socks and underwear, winter boots or a coat," said Kim Grant, office administrator at St. Gabriel Parish in Auburn. "Those are necessities … not a typical child's Christmas list."
The needs were just recently brought to the parish's attention by a counselor at the local middle school and members of the parish, seeing Jesus in the faces of the children, generously responded by adopting the families and donating money for all the requested gifts, plus treats and grocery gift cards for the parents.
"There's been just so many tears, so many people are so grateful," Kim said.
Gift requests for items which many people may take for granted also made an impact on families and young people at St. Elizabeth Parish in Reese.
Sue Bremer coordinated this year's giving tree project with Mustard Seed Shelter of Saginaw. Parish families took tags home and donated items such as bedding, blankets and personal items. 
Sue said the children who helped her hang the "ornaments" with gift requests on the tree this year were impacted by what they read. She asked one child who had a tag for a shower curtain whether he thought about needing something like that at home. 
"Some of the kids were like, 'She wants a wastebasket,' and I'd say, Do you want a wastebasket for Christmas?' You could see the wheels turning in their heads … that there are a lot of people who don't have a lot." 
She said when the kids realized people were asking for socks and other items they readily have, the recognition on their faces said it all. 
"You don't stop and think … there are a lot of people who don't have other people who can give them all those things." 
These parishes, and all the others who reach out so generously at Christmas and throughout the year, experienced the great joy in giving this season … seeing the face of Jesus in those they served.