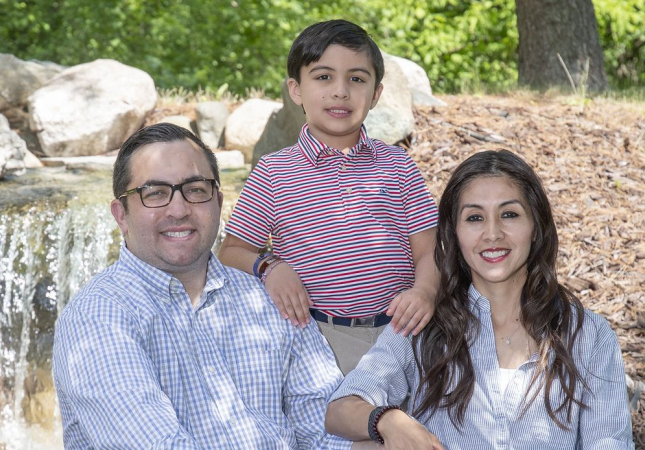 Dr. David Stockman, son Brody and wife Jennifer Stockman attend St. Francis de Sales Parish in Bridgeport.
BY STACEY TRAPANI
In January, Dr. David Stockman was on vacation in Hawaii as he watched the coronavirus unfold in China. Some may call it physician's intuition, but he sees it as divine inspiration that on that trip he realized the United States would be hit hard by COVID-19 and that his corner of the world in Saginaw would not be ready.
What happened next was further evidence of God's hand at work. From his hotel room, David contacted Dr. Ziad Daoud, an infectious disease specialist David hired in the fall of 2019, but who was not due to start for another 11 months.
"I wasn't looking for someone back in November, but we came across Dr. Daoud's curriculum vitae," said David, a pathologist with Saginaw-based Michigan Health Clinics. "We hired him, but we weren't exactly sure in what capacity we would use him."
Developing a Test
The need became clear that January day. Dr. Daoud specializes in clinical microbiology and infectious disease— exactly the expertise David and his team wanted in Saginaw to help develop a COVID-19 test.
"If you look at Michigan, we're not really a state that gets prioritized to receive public funding. I felt like Saginaw and this area of Michigan would not be at the top of the list to receive supplies and support for testing, and that definitely played out, so I knew it would be critical to develop our own test," he said.
Michigan Health Clinics received approval by the Food and Drug Administration for their laboratory-developed test, one of 15 approved tests in the country.
Something else he did back on that January day, months before the necessity was realized in Michigan, was to order supplies— and a lot of them. Masks, gowns, swabs, goggles and other items he knew would be in high demand were shipped to Saginaw for a yet-to-be-determined need.
A Tent in April
David and his medical team, including Dr. Zhiqin Wang, the lab's medical director, and Jesseca McLeod, the administrative lab director, got to work developing what would become the first COVID-19 test in the Saginaw area.
Dr. Daoud arrived in Saginaw in March. By April, the team was pitching a giant tent, designed and constructed by Saginaw's Moeller Builders, for drive-thru contactless testing so they could safely see as many people as possible.
The heated tent was equipped with a mobile laboratory to accommodate FDA-approved serology testing (to see if an individual had been exposed) and nasal swab testing (to identify active carriers of the virus.) Results were available within 30 minutes and patients interacted with a doctor through a telemedicine exam.
The testing was so needed that people waited four to five hours to be seen. Within just five weeks, 4,500 people had been tested, most of whom would never have had access to such a service.
Awaiting Initiation
As the whirlwind of events related to COVID-19 consumed the energies of David, the community and our world, something else significant was afoot in April. David was due to formally join the Catholic Church at the Easter Vigil.
"About three weeks after we started dating, I had explained to David that I was a devout Catholic," said Jennifer Stockman, David's wife of nearly 10 years. "My faith is very important and a big part of my life, and right off the bat I wanted to see where David stood."
David believed in God and prayed occasionally, and Jen said that was all she needed to hear.
In the years that followed, there was a wedding, a completed residency in Wisconsin and a fellowship at MD Anderson Cancer Center in Houston. Then there were new job opportunities, a few moves to various states, a baby son Brody and eventually a pull to return to Jen's hometown of Saginaw.
"I feel like I was always spiritual," David said. "When we returned to Saginaw in 2015 and established our roots, I started attending Mass and we have rarely missed one since."
A Gradual Journey
David describes his desire to formally join the Church as gradual.
He gives his Greek Orthodox grandmother Eva Gioulakis much of the credit for his early faith. David would attend church with her as a boy. That small fire kindled for many years, until he met Jen.
"I started believing a little bit more each day. At one point I was introduced to the idea of the Church as a family and the people there as becoming part of your family, too, and it really resonated with me," he said.
Unbeknownst to Jen, one day David reached out to Father John Mancini, pastor of St. Francis de Sales in Bridgeport, to inquire about baptism in the Catholic faith. He soon began the process of formally joining the Church.
The Holy Spirit Revealed
Jen sees the Holy Spirit in full glory through her husband's growing faith and the ways his spirituality reveals itself in his medical practice.
"One thing I have always admired about David is he is very generous. He has insisted in his practice that he see all patients, including those with no ability to pay. He's not going to deny seeing anyone," said Jen. "He does a lot of good for the community because he truly cares. His values have always been aligned with our Catholic faith, and that's really coming through."
God's Hand at Work
Today, David takes comfort in knowing without a doubt that God always looks out for us and that in any hardship, even a global pandemic, one can find meaning.
"Having that always in the back of my mind has strengthened my belief in God," he said.
As for the events that led up to developing the COVID-19 tests and pitching that big tent, David sees them all as part of God's divine plan.
"There were so many things that happened, but the one that really sticks out is Dr. Daoud. I couldn't have done anything without him. It was some sort of divine intervention that brought him across my path back then so we could jump start this earlier than anyone else," he said. "Dr. Daoud was able to fly here on the last day the airports were open. That's God's work."
——
While 56 catechumens, including Dr. David Stockman, and 59 candidates were meant to be baptized and enter into full communion with the Catholic Church at the Easter Vigil, these sacraments were delayed until they could be joyfully celebrated with the community. Some parishes catechumens and candidates have received their sacraments of initiation as parishes resume public celebrations of the Eucharist.
A Prayer for those Awaiting Initiation
Lord Jesus, we thank you for the souls you have guided to join your holy Catholic Church. Strengthen them, we pray, by an outpouring of the gifts of the Holy Spirit as they await reception of the sacraments of baptism, communion and confirmation. Help them remain steadfast in faith, hope and charity during this trial until we may rejoice with them as they enter full communion with your Church. Amen.
BY STACEY TRAPANI PHOTOS BY JEFF SCHRIER