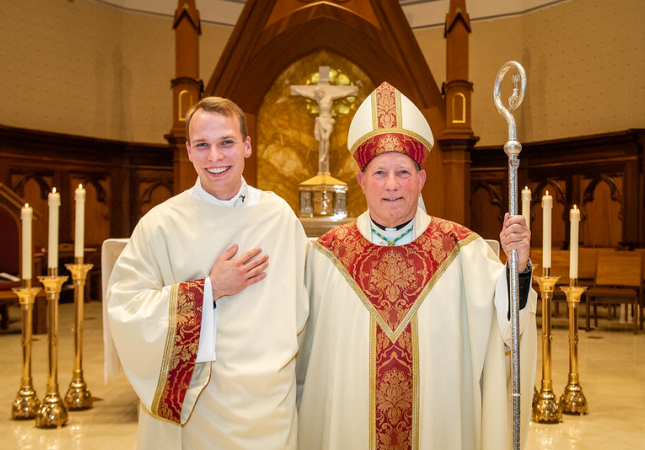 The Diocese of Saginaw is celebrating the ordination of a newly ordained deacon. Bishop Robert Gruss ordained seminarian Matthew Gembrowski to the transitional diaconate at the Cathedral of Mary of the Assumption in Saginaw on Friday, May 13.
"Matthew, in being ordained a deacon, the grace of God will radically conform you to Christ the Servant, one who came not to be served, but to serve," said Bishop Gruss during his homily message.
Bishop Gruss then referenced a note of thanks Deacon Matthew shared with the faithful of the diocese.
"As you yourself have said, 'My vocation is not meant for me, but is to be shared with all of you, God's Holy People.' May this truly be the way you live your life, knowing that the Lord will always be your example."
In his note to the faithful, Deacon Matthew went on to say, "I ask you to continue to assist me by your prayers. Pray that I may become the saint God created me to be, and a true servant – a true diakonos – for all, especially for the poor, the marginalized, and the outcast."
Bishop Gruss encouraged Deacon Matthew to seek to do the will of God in charity from the heart.
"Serve others with joy as you would serve the Lord."
He also encouraged Deacon Matthew to call upon the support of the Mother of God in this ministry.
"Matthew, mindful that we celebrate the Memorial of Our Lady of Fatima, never forget to turn to Our Lady for assistance," Bishop Gruss said. "Allow her commitment and her surrender to God's plan be a source of inspiration as you commit yourself to the mission of God in living this life of radical charity."
Following the homily, Deacon Matthew promised "to discharge the office of deacon with humility and love, to hold fast to the mystery of faith, to proclaim this faith in word and deed, to embrace the celibate state, and to pray for the Church and the whole world," as well as a promise of obedience. He then lay prostrate before the altar as the congregation prayed the Litany of Supplication, asking for the intercession of the saints.
Finally, through the laying on of hands and Prayer of Ordination, Deacon Matthew was ordained a deacon. He received his liturgical vestments— a stole and dalmatic. Deacon Matthew was vested by Father Richard Jozwiak and Father Matthew Federico.
Bishop Gruss then handed on the Book of the Gospels, reminding Deacon Matthew that he must believe what he reads, teach what he believes and practice what he teaches.