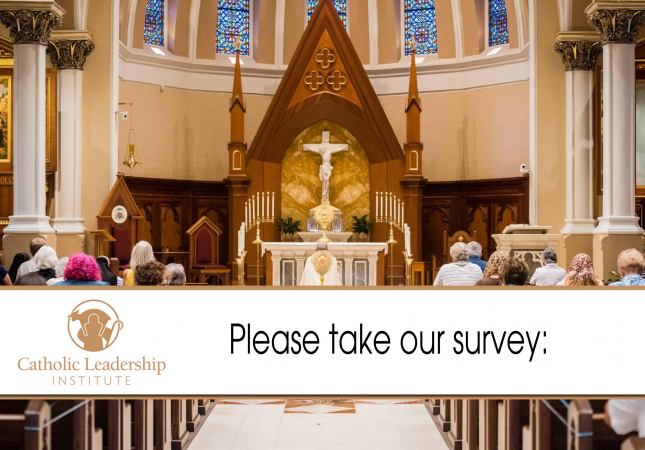 Click here, locate your parish name and take the survey now
The Diocese of Saginaw has partnered with Catholic Leadership Institute, an organization committed to helping Church leaders articulate a vision for their local church, call forth the gifts of those they lead and create more vibrant faith communities rooted in Jesus Christ.

All parishioners are being encouraged to participate by taking an anonymous survey. The survey is called The Disciple Maker Index (DMI). The hope is that it will provide insights into the effectiveness of the experience at Mass, preaching and other aspects of parish life.

"What a wonderful opportunity we have," said Bishop Robert Gruss. "I am very excited by what Catholic Leadership Institute is offering to us and our parishes. The Disciple Maker Index is a free resource to parishes that can help them understand their unique role and opportunities as a faith community."
All parishioners throughout the Diocese of Saginaw are invited to take part in the Disciple Maker Index survey.
Simply follow this link, look for and click on your parish name and you'll be taken to the survey.
"A healthy faith community is one in which parishioners are growing in their call to intentional discipleship," Bishop Gruss said. "The data from the Disciple Maker Index survey will provide a snapshot of parishioners' faith journey and help clarify parish strengths, opportunities, and leadership needs so that they can more carefully plan for missionary discipleship."
The Disciple Maker Index survey is open and active now and will continue to take responses through March 21.
"I strongly encourage every parishioner to complete the Disciple Maker Index," Bishop Gruss said. "It will provide valuable information to parish leadership regarding the spiritual needs and desires of the people in the parish, and it will also give me and my staff greater insights into the ministry we provide to you through our parishes."