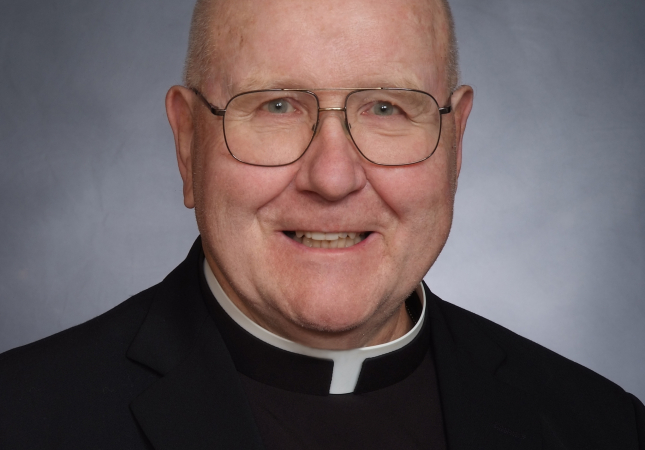 SAGINAW — The Rev. Edward Francis Boucher, 84, a senior priest of the Catholic Diocese of Saginaw, died Thursday, November 22, 2018. Father Boucher was born April 4, 1934 in Muskegon, Michigan, to the late Alfred and Irene (Wehrle) Boucher. He received his elementary education at St. Joseph Catholic School in Muskegon, where he was involved with Boy Scouts of America and earned the level of Eagle Scout.
Father Boucher received his secondary education at St. Joseph Seminary High School in Grand Rapids where he graduated high school and completed his first two years of college. He then spent two years at the School of Philosophy in Montreal, Quebec. He completed his priestly formation at St. John Provincial Seminary in Plymouth, Michigan, and was ordained to the priesthood on June 4, 1960 by the Most Rev. Allen J. Babcock, Bishop of Grand Rapids, at the Cathedral of St. Andrew in Grand Rapids. 
Father Boucher served as assistant pastor at the following parishes: St. John Vianney, Grand Rapids (Wyoming); St. Francis Xavier, Grand Rapids; Cross in the Woods Shrine, Indian River; and St. Mary of Mount Carmel Shrine, Manistee. He served as administrator at St. Vincent de Paul Parish in Shepherd. After incardinating into the Diocese of Saginaw in 1971, Father Boucher served as pastor at St. Vincent de Paul in Shepherd and St. Leo the Great in Winn. In 1972, Father Boucher joined the Navy. He spent the next 22 years as a Navy Chaplain. He traveled the world while serving his country and even celebrated Christmas Mass at the South Pole Station. He spent time at each of the following during his years of service: Naval Construction Battalion Center, Davisville, Rhode Island; Okinawa, Japan with the 3rd Marine Division; Camp Lejeune Naval Hospital, Jacksonville, North Carolina; U.S. Naval Base in Agate, Guam; Pensacola Naval Hospital, Pensacola, Florida; USS Independence CV-62 in Norfolk, Virginia; USS American CV-66 in Norfolk, Virginia; Naval Submarine Base in Bangor, Washington; Naval Air Station in St. George, Bermuda; and Corry Station in Pensacola, Florida. He became a senior priest of the Diocese of Saginaw in March, 1994, and continued to serve parishes in many areas, including Alaska, in his retirement.
Father Boucher's Funeral Liturgy will be celebrated at 11 a.m. on Wednesday, November 28 at St. Michael the Archangel Church, 1716 Sixth Street, Muskegon, Michigan 49441. The Most Rev. Walter A. Hurley, Apostolic Administrator of the Diocese of Saginaw, will preside and Rev. Don Weber will be the homilist.
Visitation will take place on Tuesday, November 27, from 6 p.m. to 8 p.m. at St. Michael the Archangel Church, and a rosary, beginning at 7:30 p.m., will be led by Rev. Ken Schichtel. The family also will greet visitors on Wednesday, November 28, for an hour prior to the Funeral Mass.
Those planning an expression of sympathy may wish to consider memorials to Loaves and Fishes Food Pantry in Muskegon.
# # #