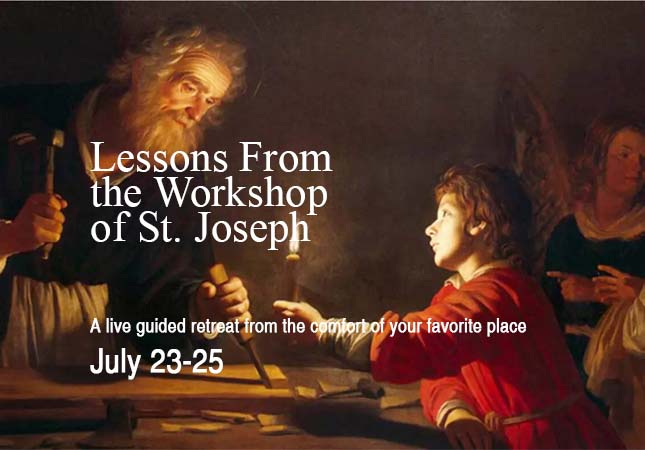 What are we to learn from a man who never spoke in Scripture?
Think of the amount of distractions in your life today. Between cell phones, social media, advertisements, and the latest breaking news, is there any room left for silence?
Surprisingly, when we make room for silence, we can begin to understand its power. In that silence with St. Joseph as our guide, we can tap into that same wellspring of courage that equipped him to lead the Holy Family in Faith and Fidelity.
On this retreat, you will...
Deeply experience the life of St. Joseph, by reflecting on his 14 stations
See Jesus from a fresh perspective through the lens of St. Joseph
Learn how to serve God and your families with courage by reflecting on the life of St. Joseph
This three-day event begins Friday evening and concludes Sunday afternoon, drawing you into meditation on the rich lessons of St. Joseph's life. You'll be surprised how applicable they are to your life today.
WHEN: Friday, July 23 - Sunday, 25, 2021
COST: Registration fee is $69.99
To register: https://go.virtualcatholicconference.com/StJoseph