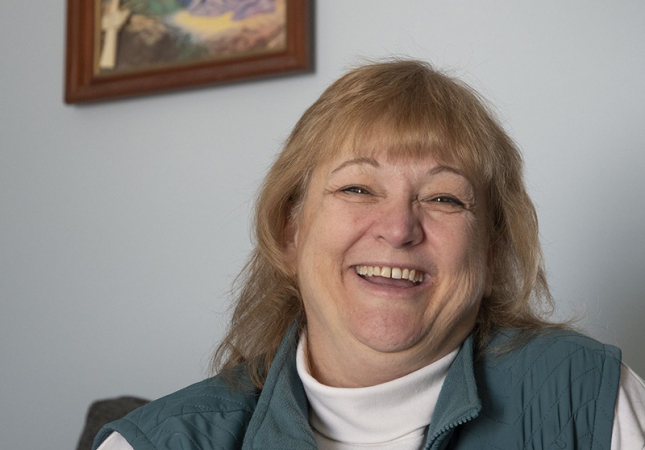 Tammy Heinlein serves in the development office for the Diocese of Saginaw. She has worked at the diocese for seven years and is a member of St. Elizabeth of Hungary Parish in Reese. She and her husband, Paul, have three adult children. Tammy survived a long battle with COVID-19 in September and October.
By: Tammy Heinlein
Published January 2021
Prior to contracting coronavirus, I believe I was like most people. I wore a mask when I should. I washed my hands often. I still met with close friends and family, but only in small groups. I didn't hug or kiss anyone so I wouldn't spread the virus unknowingly. I thought I would be fine in our small community of Reese. I was wrong.
On Friday, Sept. 11, I went to my local pharmacy to have a COVID-19 test. I was an organizer for an event, and I wanted to be sure I was negative before the event. On Sept. 14, I received the result: negative. For the following two days after the event, I felt fine. Then on Friday I had an irritating cough.
By Saturday I also had chills, but no fever. It seemed like the beginning of a cold. On Sunday I had a dry cough, chills and serious fatigue. Though I still had no fever, later that afternoon my breathing was labored. My husband, Paul, drove me to Ascension St. Mary's Hospital in Saginaw. By Sunday evening, I was in the critical care unit on oxygen, isolated from my family and even the medical professionals. I had a small room with a bed, chair, sink and toilet. Little did I know, this would be my room for the next 25 days.
"I thought I was dying"
I was put on oxygen and given several medicines. Medical staff came into my room only to check my vitals, give me pills and shots, or in response to the nurse's call button. Even the machine that administered medicine via IV was on the other side of the double doors so the nurses, respiratory therapist and doctors didn't have to come in. It was a lot of work for them to protect themselves when they entered the room.
When I was awake, I was so scared. I thought I was dying. All I could think of was that I was not able to say goodbye to my family and friends. I was afraid I would never be allowed to hug my husband and kids again. I prayed to God to please help me get through this.
A few days after being admitted, a respiratory therapist came in. Her name was Cindi. I started to cry and asked her if I was dying. She looked me straight in the eyes and said she was going to do everything she could to prevent me from dying. She also told me to fight with everything I had in me, and said she would fight to keep me off the ventilator.
That same night while I was sleeping, I heard voices. It sounded like people praying for me." 
I could never pinpoint any one voice. I just listened. I could hear someone saying, "Lord, please help Tammy fight this;" "God, please give Tammy and her family strength;" "Please keep Tammy in your sight and help her get through this," and many more such prayers.
Some people may think I was dreaming or the drugs were affecting me, but I am absolutely positive that God allowed me to hear these voices so that I would keep fighting and not be so afraid.
The next day Father José Cabrera visited to anoint me. I was so happy to see him. His smile was so nice. He prayed over me, and it brought such a calming feeling. The fact that he risks his own health to go to the hospitals and anoint the sick is a wonderful blessing for us all. I truly felt the presence of God in my life at that time. I later heard he even prayed for me from the parking lot when the hospital would no longer allow him into my room.
Soon I was feeling strong enough to call my husband, Paul. When I heard his voice, we both started to cry. He said two days ago, the doctor called to say that, if I didn't improve by the next morning, they were going to put me on a ventilator. He was so happy to know the ventilator wasn't needed. I realized Paul had spoken to the doctor the same night I heard the prayers and the next morning was when Father José anointed me.
Slow and steady
As the days went on, I got stronger. I was finally able to speak with the doctors. They were always encouraging. My pulmonary doctor, Dr. Ravinder Bhanot, told me I had been very close to going on the ventilator. He said the respiratory therapist, Cindi, and other nurses talked him into waiting. They were so sure I could do it! I call these nurses my earthly angels: Chris, Renee, Candice, Cathy, Cindy, Lisa, Patsy and so many more whose names I just can't remember.
Many days I sat in my chair and watched as the medical staff moved in the main area. They were busy at all times. If they weren't helping me or one of the other patients, they were wiping down every machine and surface with disinfectant.
I also witnessed so much death. So many weren't able to beat this virus." 
I would pray for their families. How hard it must have been for them. I would then thank God for giving me the strength to fight. I cannot talk enough about the wonderful care I was given from the medical staff. Everyone was so encouraging.
A goal to dance
One day when I was feeling low, Cindi said I needed a goal board. She asked me for my first goal; it was to hug my husband again. My second goal was to dance with my sons at their upcoming weddings. She added a goal, too: that I would send her a card for Christmas, since it was her favorite holiday. She added medical goals, like exercise and breathing, for me to work toward each day, along with daily goals for meditating and praying.
As the days went on, I slowly got stronger. I had good days, bad days and some very bad days, but I pushed through them. One day when I was especially struggling, one of the nurses brought me a large manila envelope. It contained cards, well wishes, prayers and notes from all of my co-workers. I can't begin to tell you how much that lifted my spirits!
On Monday, Oct. 19, I was released from the hospital. Before I left, some of the people who had helped me came to say goodbye. They were so happy to see me beat this virus. At the doors, there stood Paul and my daughter, Stacey. There were lots of hugs and tears. I was going home!
It has not always been easy since coming home. I am still on oxygen 24/7. I get monthly chest X-rays to see if the pneumonia that the virus left in my lungs is getting better. It is, slowly. The pulmonary doctor tells me that I am healing as they expected and to be patient. I'm trying.
Finding what's important
I've learned through all of this that it is important to tell people how much you love them. I'm happy that I have met all my goals. I hug my husband every day. I hope to dance at both of my sons' weddings in August 2021 and October 2022. I sent Cindi a Christmas card.
I now make new goals weekly. I will be forever grateful for my family, friends, co-workers and all of the medical staff at Ascension St. Mary's Hospital for everything they have done. I am also thankful for my community, St. Elizabeth Parish of Hungary in Reese, and the family and friends who brought food for my family while they were recovering from their own coronavirus infections while I was in the hospital. Most importantly, I will always be grateful for my God and all the blessings he has given me.
I've learned through all of this that it is important to tell people how much you love them."
I can't tell people enough how important prayer is. I know in my heart that I would not be here today if it weren't for all of the people near and far who prayed for me – some of whom didn't even know me. By the grace and love of our God he has allowed me to be here to tell my story.