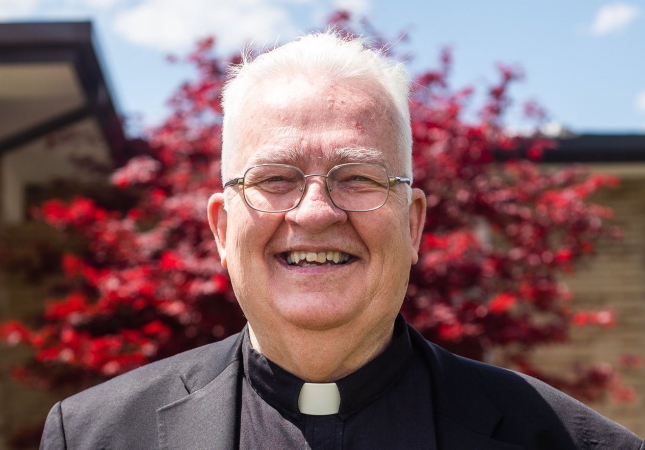 Inspired by the social justice work of a teacher, Sister Mary Pineau, and the civil rights movement, Father Ron Wagner has always had a heart for service.
"There's something inside of me that just says 'I've got to keep doing this,'" he said.
His decades of social justice work were recognized by the Ezekiel Project of Saginaw at their annual Dr. Martin Luther King Jr. Celebration on March 21, which was held virtually this year due to the pandemic. Father Ron was presented with the Rev. Dr. Hurley G. Coleman Sr. Award for Community Service.
Father Ron 'answered the call'
"Over the years, Father Ron Wagner has been one of the anchors for the Ezekiel Project," said the Rev. Dr. Charles Coleman, pastor of New Faith Temple Church of God in Christ in Saginaw, who presented the award. "When Ezekiel Project was called, Father Ron Wagner was one of those who answered the call. We would find him leading prayers, speaking and making phone calls to make sure that our message of social justice reached out across all lines to ensure that everybody who needed help found the help they needed."
The Ezekiel Project is an interfaith, interracial community organizing collective that works for social justice and systemic change within Saginaw and the Great Lakes Bay Region. Ezekiel Project, as part of a larger social justice movement, differs from a direct service organization by seeking to solve the underlying issues of poverty, inequity and injustice. This, Father Ron says, empowers people and honors their dignity.
'Treat people the right way'
"(Jesus) cared about the dignity of people... You want to treat people the right way, treat them with dignity and help them take care of their own dignity. They see they're not worthless," he said.
Father Ron was involved with the Ezekiel Project for about 20 years while serving as a parish priest throughout Saginaw. During that time, he prayed with people of many faiths at rallies and prayer walks, including in neighborhoods where people were being killed. He also worked on education issues such as truancy intervention and reading mentors.
A major victory for the Ezekiel Project and, by extension, Saginaw was improved public transportation. Over about six years, Father Ron and other Ezekiel Project members met with city leaders and Saginaw Transit Authority Regional Services (STARS), learned about public transportation systems and helped rally the community to pass a millage to improve the bussing system.
"Working in that area has improved the lives of many people," he said, pointing out people's ability to get to jobs, doctors' appointments and stores.
Though he is currently pastor of Resurrection of the Lord Parish in Standish, where he now lives, Father Ron is confident that the skills he has learned can be applied to his new community.
Mindful prayerful & intentional
Jessica Hernandez, executive director for the Ezekiel Project, said Father Ron has taught her to be a more mindful, prayerful and intentional leader.
"He was a leader amongst leaders with us," she said. "Father Ron is an overall beautiful soul. … He embodies a man of God, somebody that aspires not only to change his own personal life, but those he works with."
Jessica said his involvement included not only the executive board and faith leaders' table, but also working directly with staff and getting the Diocese of Saginaw and area parishes connected with the Ezekiel Project. The Rev. Dr. Hurley G. Coleman Sr. Award simply affirmed what members of the Ezekiel Project already knew.
Invested in the community
"It was a well-deserved award. He is a man of justice, a man of faith, and a man that invested in not only the leaders, but in the community," she said.
For Father Ron, he will continue to join the fight for social justice and systemic change.
"This work for justice... is never an easy work, but it's God's work," he said. "Sometimes it feels impossible to do, but I'm always reminded that nothing is impossible for God."