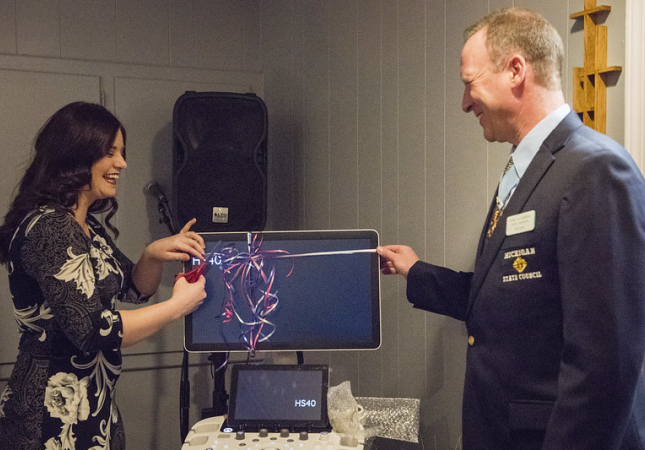 Pictured above, Amanda McKim, executive director for Beacon of Hope, cuts the ribbon on a new ultrasound machine donated by the Knights of Columbus, as Barry Borsenik, State Advocate for the Knights of Columbus' Michigan State Board of Officers, and parishioner of Ss. Francis and Clare Parish in Birch Run, stands nearby. View more photos by clicking here.
Nothing can compare to the moment of seeing your baby for the first time. With modern ultrasound technology, that moment can be as early as six weeks into a pregnancy.
That moment can be powerful enough to help a mother choose life for her unborn child.
 
With this hope in mind, pro-lifers from across the state and region gathered at Beacon of Hope Pregnancy Care Center in Saginaw on Wednesday, Jan. 8, to celebrate the life-saving potential of a new $37,000 ultrasound machine donated by the Knights of Columbus, with support from many generous parishioners.
 
"This machine is a blessing," said Father Pete Gaspeny, pastor of Holy Spirit Parish in Shields, during the blessing and dedication ceremony. "This machine is a blessing for parents to help them to choose life. This machine will be a blessing for all those served by Beacon of Hope ... that they will be able to make the choice for life, that they will be able to see that life and see how precious it is."
 
The Knights of Columbus, working with seven parishes— Holy Spirit, Shields; St. Agnes, Freeland; St. John Paul II, Carrolton; and St. Dominic, St. John Vianney, St. Thomas Aquinas and Christ the Good Shepherd, all of Saginaw— organized a freewill offering in September to raise funds for the new ultrasound machine. The K of C Father Robert Davey Council #8808 and parishioners raised not only the $15,000 needed, but several thousand dollars more, which also benefited Beacon of Hope. The Knights of Columbus Supreme Council provided matching dollars from its Culture of Life Fund - part of the organization's Ultrasound Initiative. 
Council #8808 Grand Knight Mike Metiva said that the entire fundraising goal was exceeded in just one weekend during a special collection at the parishes.
 
"To have such an overwhelming response is fantastic," he said.
 
An answered prayer
For Beacon of Hope, the new ultrasound machine was truly an answered prayer.
 
"The ultrasound machine that we had here previously was really outdated," explained Shannon Martin, a former sonographer and program director at Beacon of Hope. She said some circumstances caused difficulty in seeing the baby, particularly early in pregnancy.
 
"I just started wishing and hoping and praying, wouldn't it be so nice if we could get a donor to get us a new ultrasound machine?" she said. "I knew with God all things are possible, so I just started praying about it."
 
The door opened when Shannon happened to mention this prayer to someone who recommended she contact Tim Donovan, life director for the Michigan K of C. Tim contacted K of C Council #8808, and they worked together with Beacon of Hope.
 
"This [ultrasound machine] is super new, updated and is going to give us a much higher quality image," Shannon said. "It also has the added benefit of 3D/4D technology. If a mom comes in, they'll be able to see arms, legs, facial features depending on how far along they are."
 
These images can be life-changing. The three-dimensional video image allows a mother to see her child wiggle, yawn and suck his or her thumb, revealing the humanity of the child in the womb.
 
Amanda McKim, executive director for Beacon of Hope, said the new ultrasound machine will deliver a clearer picture and hopefully enable earlier heartbeat detection. A heartbeat can be heard at five weeks, five days gestation, which is three weeks, five days after conception.
 
Amanda recalled a recent day when three women, all considering abortion, came to the center. They were each between five and six weeks pregnant, and their ultrasounds were vastly different, as the embryo develops rapidly. One was too early to detect a heartbeat; one heartbeat was heard faintly— Amanda said it was possible the child's heart had started beating within the day— and the third had a strong heartbeat. Amanda wondered how much more clearly the new ultrasound machine would have been able to detect the tiny hearts.
 
'It's like the Holy Spirit moving'
Beacon of Hope serves about 300 women annually. Ultrasounds are an important resource in helping a mother choose life, she said.
 
"The ability to offer free ultrasounds allows us to show a mother that a life is happening inside her ... that this is a baby and this is a life that you would be taking," Amanda said.
 
Amanda has had the privilege of accompanying women to their ultrasounds at the center.
 
"Every single time we scan, it's like the Holy Spirit moving," she said.
 
Just one of many examples of the power of an ultrasound image came from a young woman who accidentally walked into Beacon of Hope. She had meant to walk into the abortion clinic next door.
 
"I remember I was the first person she saw when she came through the door," Amanda said. She described how the woman was frustrated, then distraught but agreed to talk to Amanda. By the end of her two-hour visit, she was looking forward to showing the ultrasound pictures to her fiancé and planned to return for help on how to tell her parents and proceed forward.
 
Shannon recalled one of the first women Beacon of Hope served. The mother was at the abortion clinic in the room where the procedure would take place. Her boyfriend didn't know she was pregnant, she had two children at home and felt she couldn't handle a third child, Shannon said. She had a friend, however, who was texting her from the waiting room, telling her that it wasn't too late to change her mind and leave. As it happened, they had received a brochure about Beacon of Hope from pro-life sidewalk advocates who reach out to women entering the abortion clinic.
 
"The client changed her mind. She walked out of the clinic," she said.
From the clinic, she went to Beacon of Hope where Shannon performed an ultrasound. There, they discovered a surprise.
 
"She was not just expecting one baby; she was expecting twins!" Shannon recalled, adding that though the abortion clinic was required by law to perform an ultrasound, they had not told the mother about the twins. "Those babies are doing well! She still texts me pictures of them. They're doing great, she's doing well. It's a phenomenal story."
 
The mother, Shannon said, visited Beacon of Hope throughout her pregnancy and also received diapers, car seats, pack and plays and other assistance to support her and her twins.
 
"At this time all of us pro-life people are under attack. We all have to do our part in order that the next generation can inherit a culture that values every member," said Tim Donovan.
 
"We're all for the right to life," Mike said, adding that organizations like Beacon of Hope help mothers choose life.
 
Amanda said she has seen it happen time and time again in the ultrasound room.
 
"All of a sudden the walls come down and barriers disappear," she said. "They realize they're already a mother."
Beacon of Hope Pregnancy Care Center serves the community through its Saginaw and Bay City locations. The ministry offers free early detection pregnancy tests, information on pregnancy and fetal development, material assistance, referrals and more to expecting mothers. Ultrasounds performed by registered diagnostic medical sonographers are offered for free to those who qualify. They also provide information about adoption and educate mothers about the medical, emotion and spiritual risks of abortion. 
The Knights of Columbus Ultrasound Initiative was launched Jan. 22, 2009, and has since provided 1,057 ultrasound machines to pregnancy care centers throughout the United States and Canada. Learn more by clicking here now.