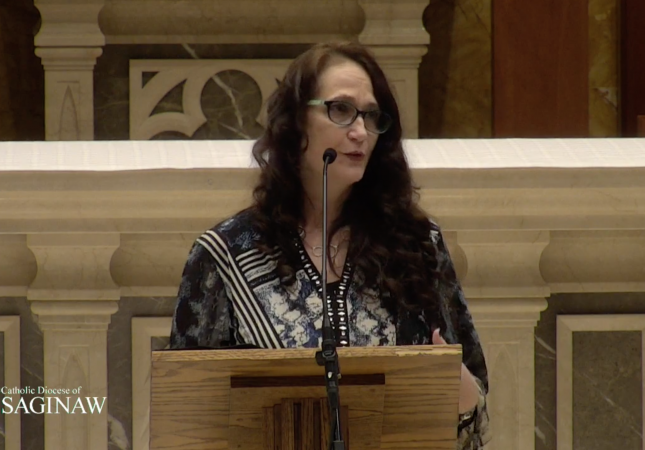 Photo: Lisa Coleman, Executive Director of H.I.S. Restoration Ministry Maternity Home, speaks at the Rally for the Legal Protection of Unborn Children on Friday, Jan. 22.
Friday, Jan. 22 was the 48th anniversary of the Supreme Court's Roe v. Wade decision that made abortion legal in all 50 states.

On Friday, faithful from across the Diocese of Saginaw joined together both in person and virtually to pray for an end to abortion.
"All human beings are masterpieces. … We are incredible works of art in the eyes of God," said Bishop Robert Gruss in his homily during the Mass for Life at the Cathedral of Mary of the Assumption.
The Rally
Preceding the Mass, the diocese hosted a Rally for the Legal Protection of Unborn Children with speakers, prayer and worship music. Attendees learned about local pro-life efforts, such as H.I.S. Restoration Ministry Maternity Home.
Executive director Lisa Coleman, shared how the faith-based nonprofit in Saginaw houses pregnant homeless women during pregnancy up to six months postpartum and helps them develop a plan of action for employment or education.
"Our vision is for each woman to emerge healthy and whole, capable of walking in God's most excellent direction for their lives, and creating a hope and a future for the lives of their children using the gifts and the tools given to them at H.I.S. Restoration," she said. "(God) desires to use us for healing and building others up."
The dignity of those who are homeless
Lisa knows intimately the struggles of homelessness, as she herself was homeless for a time. As a child, she was also in foster care. Her earliest memory is of putting her belongings into a garbage bag, as she thought, 'You put trash in a garbage bag. If that's what I put my belongings in, then what am I?'
Holding to that memory, she ensures that every mother and child who leaves H.I.S. Restoration has proper luggage.
"They will never carry a trash bag as their identity because they are not trash. They are worthy and they are loved," she said. "If there's anything they learn when they leave us, it's that they were loved and are loved by God."
By showing God's love to expecting mothers and honoring their dignity, H.I.S. Restoration volunteers are witnesses to life.
"We can and we will make a difference in this world, one life at a time," Lisa said. "Actually, two lives at a time: mom and baby. After all, a baby changes everything."
The rally also included prayer and remarks from Mark Graveline, director of youth ministry for the Diocese of Saginaw, and Dave Sauve, president of Saginaw County Right to Life, as well as music from JAM, the Jesus and Music Praise Band led by Roberta Conley from St. John Vianney Parish in Saginaw.
Faith and science
Sister Esther Mary Nickel and Sister Maria Jose Perez, both Religious Sisters of Mercy of Alma with science backgrounds, also spoke about the connection between faith and science and how it helps us define the sanctity of life.
Science, Sister Maria pointed out, tells us about the world and phenomena around us as we observe and learn.
"In that search for truth, we discover a profound mystery that if we sit with it, if we're open to it, it can lead us to worship of God and it can lead us to reverence knowing that God is a creator," she said. "From there, we can begin to reverence life."
Both sisters encouraged pro-life advocates to use science and faith to share the pro-life message in a gentle, inviting way and to consider our own attitudes and if they affirm life.
Prayers for the 61.6 million souls lost
At the rally's conclusion, attendees had time for quiet prayer for the more than 61.6 million souls lost to abortion since Roe v. Wade before Mass began.
"Today we gather with great sadness in our hearts … as we reflect on this reality," Bishop Gruss said in his homily. "As our prayers and the prayers of people all across our country storm heaven today, we pray, 'Lord, in your great mercy, answer them.'"
Bishop Gruss also called the faithful to action and hope.
"We must ask ourselves, what is our role in helping moms in need?" he said. "In the end, it is everyday heroism made up of sharing, gestures of sharing, big or small— they are what builds a culture of life. As a Christian family gathered here today, we do grieve the loss of so many innocent babies over the past 48 years, and yet even in our grief we know there is hope. We know as Christians we must give this hope to others, especially those in need. So let us go therefore and not be afraid, because God is always with us, encouraging us."
—
The Diocese of Saginaw is hosting a Witness to Life virtual retreat Jan. 21-29. Learn more here