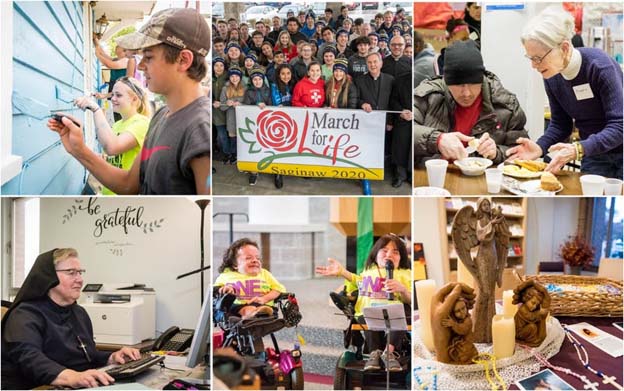 Because of Jesus' love for all in need, our Catholic faith teaches us to recognize the God-given dignity of each person at all stages of life. Christian Service ministries of the Diocese of Saginaw promote resources and supports programs that promote human dignity and defend the poor and the vulnerable. Additionally, Catholic Family Service offers assists with psychological, social and spiritual needs in a safe and nurturing setting. 
Please select a ministry area to support.
Where Needed

Respect Life Initiatives

The Respect Life initiatives focus on the gift of life from the moment of conception to natural death.  Services include post-abortive support, Rachel's Vineyard, grief ministry, disability ministry, Walking with Moms in Need and the Mother Teresa Fund.

Youth Encounter Service (Y.E.S.)

A week-long service camp and immersion experience gives high school students an opportunity to learn about and fight poverty. In addition to mowing lawns, trimming bushes, and painting, Youth Encounter Service participants learn about Catholic social teaching. They also spend part of the week volunteering at various outreach organizations in the community. Evening activities include guest speakers, prayer and reflection on the experiences of the day.

Bishop's Charity Fund

Bishop's Charity Fund is attentive to the needs of the poor and marginalized in our communities. Support is provided to direct service agencies that assist and empower the poor. Agencies that have been supported include, but are not limited to, Mustard Seed Shelter, LifeClinic, H.I.S restoration Ministries, Eastside Soup Kitchen, CAN Council, Emmaus House, I Support the 1% Veteran's Food Pantry, Suicide Resource & Response Network, Children's Grief Center, The Partnership Center and Rescue Ministries of Mid-Michigan.

Multicultural & Hispanic Ministry

Multicultural & Hispanic Ministry promotes the appreciation of the richness of diverse heritages across the Diocese of Saginaw, including the Hispanic and Black Catholic communities. This office hopes to work for all underrepresented communities within our diocese to integrate them within the life of the Church in a manner that respects unique cultural traditions. This ministry includes promoting ethnic celebrations, evangelization and outreach to target populations, migrant ministry, interpretation and translation assistance. By supporting these ministries, you are helping the Faithful from all cultural and ethnic backgrounds celebrate the love of Jesus and come to know him better by promoting equity, justice and inclusion.
Multicultural & Hispanic Ministry includes:

•    Diversity, inclusion and equity
•    Hispanic Ministry and outreach
•    Migrant ministry and outreach
•    Black Catholic Ministry and outreach
•    Masses celebrated in Spanish
•    Translation and interpretation services

Catholic Family Service

Catholic Family Service provides professional counseling, guardianship and pregnancy assistance for those in need. A full range of services are offered to individuals, couples and families. Offices are conveniently located in Saginaw, Bay City and Mount Pleasant.  

Insert Shelby form here

Marriage and Family Ministry

Marriage and Family Ministry offers resources for holy and healthy relationships in marriage and families. Services include marriage preparation, marriage enrichment, divorce recovery, natural family planning and Catholic parenting. 
Other ways to support our ministry include planned giving, bequests and more.
Learn about how you can work with the Catholic Community Foundation of Mid-Michigan to support our ministries