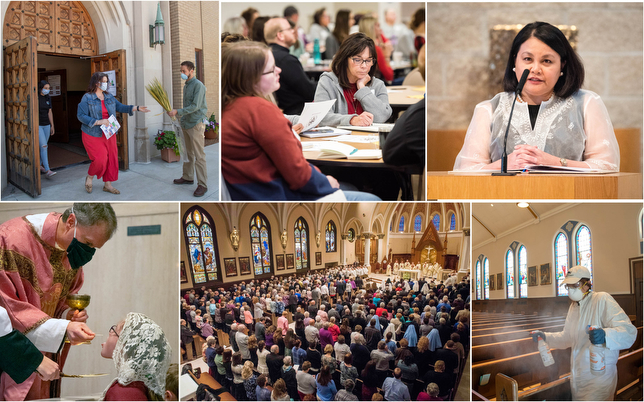 The foundation of the diocese is our 56 parishes, each of which operates more effectively due to guidance and services from the diocese. Liturgical support is a key component.
Please select a ministry area to support.
Where needed

Pastoral and Finance Council Leadership Training

Parish Administration Assistance or Training

Cathedral Support

Liturgical Assistance or Training

Individual Parish Support

Select your parish

All Saints -- Bay City
Annunciation of the Lord - Port Austin
Assumption of the Blessed Virgin -- Midland
Ave Maria -- Lexington
Blessed Sacrament -- Midland
Blessed Trinity -- Frankenmuth
Cathedral of Mary of the Assumption
Christ the Good Shepherd -- Saginaw
Corpus Christi - Bay City
Good Shepherd - Ubly
Holy Apostles - Ruth
Holy Family - Sandusky
Holy Family - Saginaw
Holy Name of Mary - Harbor Beach
Holy Spirit - Shields
Holy Trinity - Pinconning
Mary of the Immaculate Conception - St. Charles
Most Sacred Heart of Jesus - Mt. Pleasant
Nativity of the Lord - Alma
Our Lady Consolata - Cass City - Call Parish Office 989-665-1027
Our Lady of Czestochowa - Bay City
Our Lady of Grace - Sanford
Our Lady of Hope - Clare
Our Lady of Peace - Bay City
Our Lady of Perpetual Help - Caseville
Prince of Peace - Linwood
Resurrection of the Lord - Standish
Sacred Heart - Gladwin
Ss. Francis and Clare - Birch Run
St. Agnes - Freeland
St. Athanasius - Harrison
St. Brigid of Kildare - Midland
St. Catherine of Siena - Bay City
St. Christopher - Caro
St. Cyril - Bannister
St. Dominic - Saginaw
St. Elizabeth of Hungary - Reese
St. Frances Xavier Cabrini - Vassar
St. Francis de Sales - Bridgeport
St. Francis of Assisi - Saginaw
St. Gabriel - Auburn
St. Hubert - Bad Axe
St. Isidore - Parisville
St. John Paul II - Carrollton
St. John Vianney - Saginaw
St. John XXIII - Hemlock
St. Joseph - Saginaw
St. Joseph the Worker - Beal City
St. Jude Thaddeus - Essexville
St. Mark - Au Gres
St. Mary University - Mt. Pleasant
St. Michael - Maple Grove
St. Paul the Apostle - Ithaca
St. Peter - Chesaning
St. Thomas Aquinas - Saginaw
St. Vincent de Paul - Shepherd
Other ways to support our ministry include planned giving, bequests and more.
Learn about how you can work with the Catholic Community Foundation of Mid-Michigan to support our ministries