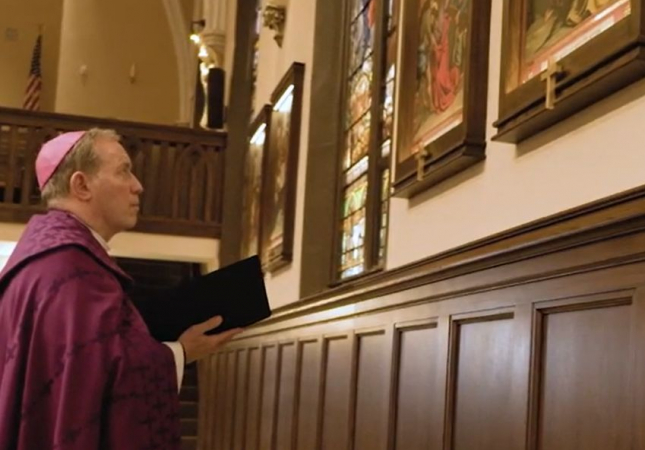 Please share details of this broadcast with those you know who would like to join in this devotion!
Filmed in Saginaw and broadcast across North America, Europe, Asia, India and Africa last year on EWTN, the Stations of the Cross for the COVID pandemic connect the difficult months we've lived through with the Passion of Jesus Christ. The inspired prayer, written locally, has offered healing and hope to thousands of people in our diocese, state, country and around the world.
The prayers were updated this year to reflect the experiences of loss and isolation we have encountered over the last 12 months. You are invited to join Bishop Robert Gruss in praying these Stations of the Cross on Sunday, March 21 at 11:30 a.m. on WNEM TV-5.
Since the initial release of these Stations of the Cross in 2020, requests to pray them have come in from across our diocese, state, country and around the world.
Words of encouragement from around the world- thank you Saginaw, USA
Following the global broadcasts on EWTN, the world's largest religious media network, people have also reached out with words of thanks and encouragement, similar to this touching note from Ireland: 
Greetings from a little parish on the South West shores of Lough Neagh in the Emerald Isle, a little baby lake compared to the Great lakes of the U.S.!
This is just a little note to thank you so much for leading us so gracefully in the praying of the Stations of the Cross, this Friday before Good Friday. I was just in from putting up signs of the closure of my cemetery by order of the Government when I flicked on the television just as you were beginning to pray if I can call them, the Coronavirus Stations.
I had been toying with writing some kind of coronavirus stations myself for the Stations of the Cross on Good Friday here in my own parish. And there you were miles ahead of me! Courtesy of Maribeth, bless her.
Please forward my thanks to her and may the Lord bless the ministry of young Fr. Marc.
In the Irish we have a saying Dia (God) idir (between) sinn (us) agus (and) t'olc (all evil) God between us and all harm. That is my prayer for you and your people. Blessings on you and all to whom you minister at this difficult time for the whole world. 
Learn about how these Stations of the Cross prayers came to be- read stories below from 2020
Local Priest's Mom Composes Stations of the Cross for Coronavirus Pandemic
BAY CITY- Maribeth Hopps heard the Lord telling her, "You did this once … you've got to do it for this."
It was a nudge, she believes, from the Holy Spirit to compose a Stations of the Cross prayer for the current coronavirus situation.
With anxieties and dramatic changes facing people locally and around the globe each day, the mother of recently ordained diocesan priest, Father Marc Hopps, began to write a new set of stations. READ THE FULL STORY
Read the (2020) Story: EWTN to Broadcast Local Stations of the Cross Internationally