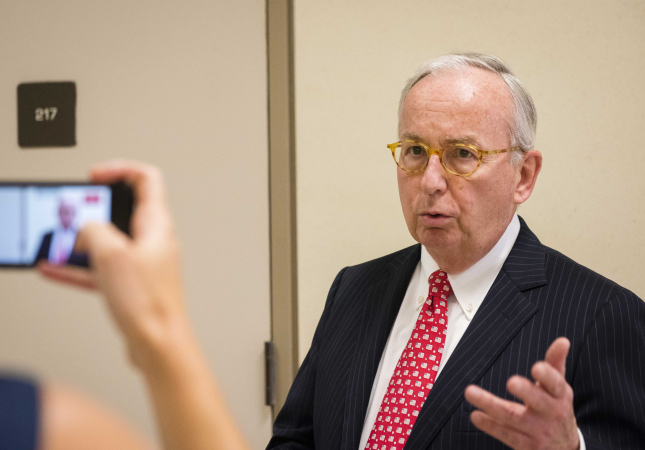 SAGINAW — The Catholic Diocese of Saginaw has been contacted by multiple members of the media today following a press briefing by the Saginaw County Prosecutor's Office on the criminal case against Father Robert J. DeLand. The questions surround claims that the diocese has been "uncooperative" in the investigation.
A Fresh Start
In April, citing the need for a "fresh start," the Most Rev. Joseph R.Cistone, Bishop of Saginaw, appointed Judge Michael J. Talbot (Ret., photo above), to act independently with full responsibility within the Diocese of Saginaw with regard to matters involving the alleged sexual abuse of minors and sexual misconduct by clergy and diocesan representatives. Judge Talbot was also asked to take the lead on any and all interaction with civil authorities.
Meeting With Prosecutors
The following month, in the spirit and interest of cooperation, Judge Talbot met with Saginaw County prosecutors. After an hour-long meeting, Judge Talbot addressed members of the media stating: 
"We have a common interest . . . we have no desire to have anyone out in active ministry, or any employee of the diocese who would be endangering minors." 
Protection of Children and Families
Stating his concern for the protection of children and families, Judge Talbot asked the prosecutor whether there is any allegation against any other member of the clergy who has not already been removed from ministry.
"I'm concerned about whether there is anybody else," Judge Talbot said. "And, I asked, 'If there is, please let me know; we want to take them out of ministry.' My concern is the protection of young people out there today."
In that same meeting, Judge Talbot also offered full diocesan cooperation in the ongoing investigation. The prosecutor said he would take that offer to law enforcement. The next day, Judge Talbot received a call from the Saginaw prosecutor's office advising him that law enforcement was not interested in Judge Talbot's offer.
The Press Conference
At today's press conference, when an assistant prosecutor was asked by the media for examples that demonstrated the diocese's lack of cooperation, he would only say, "... they're just generally uncooperative." 
The diocese stands ready to cooperate fully with the Saginaw County Prosecutor's Office. Since Judge Talbot stepped into his role in April, neither he nor diocesan legal counsel has been contacted by prosecutors or law enforcement asking for anything.
Restrictions
The diocese continues to take the position that it will not discuss the criminal case against Father DeLand until sentence has been imposed. It will, however, now move forward as required under church (canon) law. While that process is underway, the restrictions placed upon Father DeLand by the diocese in February continue – he is prohibited from presenting himself as a priest; he cannot wear clerical attire and may not exercise any form of church ministry. He is mandated by the diocese to meet all obligations placed upon him by the courts.
The Diocese of Saginaw continues to encourage anyone who was abused by a member of the clergy – regardless of how many years ago – to report the abuse to authorities. The diocese also remains deeply committed to providing care for any victims who have suffered abuse by clergy. Counseling is available to all victims.